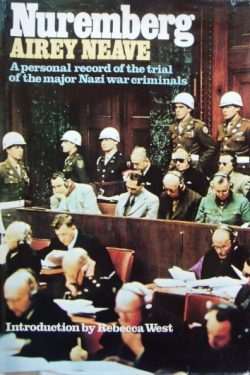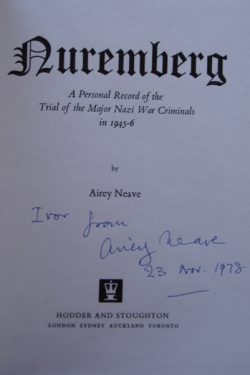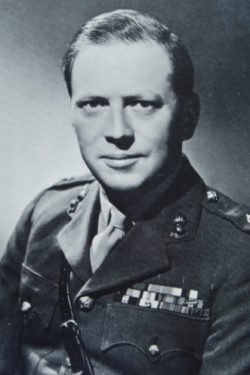 NUREMBERG
A personal record of the trial of the major Nazi war criminals
Signed by Lt Col Airey Neave DSO OBE MC
Sold
Signed and dated by Airey Neave on the title page
23 Nov 1978

Hodder & Stoughton First Edition, 1st impression 1978.  348 pages and well illustrated with photographs
Very Good condition hardback book in a Very Good condition dust jacket which has some neat internal repairs but looks very presentable in its protective cover. 
During World War II, Neave was the first British officer to successfully escape from the German prisoner-of-war camp Oflag IV-C at Colditz Castle. After his escape and return to England, Neave became the chief organiser at M.I.9. 'Saturday' was Neave's code name. He later became Conservative Member of Parliament for Abingdon. Neave was assassinated in 1979 in a car-bomb attack at the House of Commons.
This was Neave's last book, published shortly before his assassination and is a unique insight into the final chapter of Hitler's Germany. After a distinguished wartime career, Neave was a fluent German speaker, legally qualified and with personal experience of the Gestapo. He was asked to work for the British War Crimes Executive team and on 18th October 1945, aged only 29, he was required to serve the Allied indictments on 21 top Nazis awaiting trial in Nuremberg.  He visited cell after cell, meeting names which had until then been figures of ridicule, contempt and horror in his imagination; Goering, Hess, Keitel, Streicher, Ribbentrop, Speer, Doenitz and others.  He describes them and their various reactions as he explained their rights to a fair trial.
Over the following months he watched and listened in court as the momentous events of the trial unfolded. Was this the victor's justice? Or was it civilisation's infinitely painful verdict on the worst crimes ever committed? These questions, and many others, are answered in this definitive, eye witness record of the Nuremberg trials.
A scarce signed copy of this historic book which details the final act of World War II.