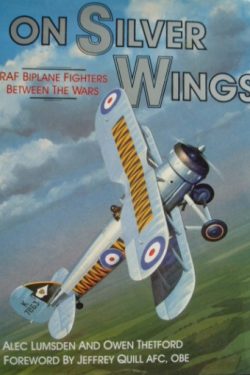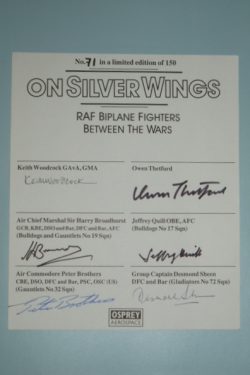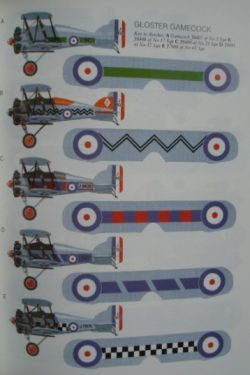 On SILVER WINGS
RAF Biplane Fighters Between the Wars
Multi-Signed by RAF Pilots
Special Limited Edition Bookplate Number 71
/150
Signed by the authors and
Air Chief Marshal Sir Harry Broadhurst GCB KBE DSO*DFC*AFC


Jeffrey Quill OBE AFC




Air Commodore Pete Brothers CBE DSO DFC*




Group Captain Desmond Sheen DFC*
Osprey Publishing First Edition 1993.  224 pages profusely illustrated with black and white photographs and over 100 stunning colour profiles.
A Fine condition book in a Fine condition dust jacket. Clean, tight and unmarked.
This is a book to gladden the eye and delight the heart of all military biplane enthusiasts. It fills a long-standing gap in aviation literature, covering the inter-war years of open-cockpit fighters, bedecked with eye-catching squadron regalia and this is a lavishly illustrated study which celebrates the romantic era of RAE fighter squadrons in the 1920s and 30s. This hitherto neglected period of history nevertheless cradled many future fighter aces whose names were to become part of legend in World War 2: Douglas Bader, Al Deere, Sailor Malan, Widge Gleed, Ginger Lacey, Johnny Kent, Pete Brothers, Jeffrey Quill and Bob Stanford Tuck to name but a few who spent their early years with the colourful fighter biplanes of the inter-war period.
Covering the entire spectrum of the RAF's fighters of 1919 to 1939, from the Snipe to the Gladiator, On Silver Wings examines both the detailed technical evolution of each type from initial specification to squadron service, and goes on with a full review of its exploits with the squadrons, the personalities who flew it and an assessment of its place in the annals of RAF fighter squadrons.
Detailed technical specifications of each type are accompanied by data on production quantities by manufacturers, dates and locations of all squadrons equipped, and a comprehensive review of squadron markings and serials of aircraft with each unit. A unique feature of the book is the inclusion of over 100 individual aircraft profiles in colour, and there is a rare collection of black and white photography never before seen in print.
Co-authors Alec Lumsden and Owen Thetford, who first worked together as editorial colleagues in 1945, have both made a life-time study of their subject. They have produced a volume which will long be treasured by all aficionados of classic fighter biplanes, whether from the standpoint of RAF history, modelling activities or simple nostalgia.
The colourful jacket illustration is by the well known aviation artist Keith Woodcock, GAvA, and depicts a Gloster Gauntlet of the famed No 74(F) Sqn, colloquially known as the 'Tiger Squadron', in its famous tiger-stripe markings.
A spectacular book about a colourful age of RAF fighters with some excellent signatures.