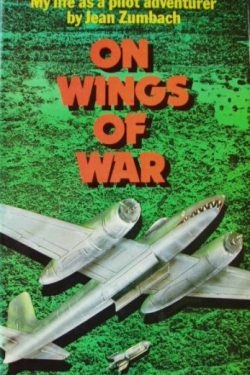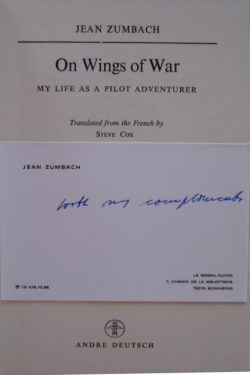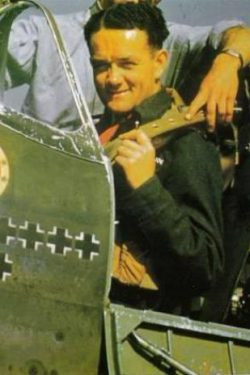 On WINGS of WAR
The Autobiography of Squadron Leader Jan Zumbach DFC* VM
Laddie Lucas' copy
 Zumbach's gift to Laddie Lucas with compliments slip & annotations
Andre Deutsch First Edition 1975.  252 pages and well illustrated with photographs
Fine condition hardback book with similar condition, clipped dust jacket. Clean, bright and tight.  A very nice copy of this scarce book with a fascinating provenance.
This book was sent by Zumbach to Laddie Lucas in 1982 and part of the original wrapping is included (see picture below) .  Zumbach's compliments slip is laid in but not attached to the book.  Lucas has written Zumbach's name in pencil on the inside front flap of the dustjacket.  Lucas has also made some pencil annotations to pages 70-79 marking up several paragraphs that he used in his WWII anthology (interestingly called 'Wings of War' Hutchinson 1983).  Zumbach has also made a marginal note in pencil on page 75 which reads 'Mistake! It was on 9 Mai 1941, on re-visting the script'.
This book tells an extraordinary story of flying and a swashbuckling adventurous life.  It is the memoir of one of Poland's most famous fighter aces who fought with the RAF in the Battle of Britain and beyond.  Jan Zumbach was the lead character in the recent Battle of Britain film 'Hurricane' (played by Iwan Rheon)
Born in Poland, but preferring to think of himself without nationality – the Africans simply called him 'Mister Brown' – Jan Zumbach escaped from Poland to France and then to England where he was a pilot in the famous 303 Squadron during the Battle of Britain, a squadron which he later commanded.
Finishing the war with more than 12 victories he became involved in various risky flying enterprises involving contraband (gold, cigarettes, diamonds and penicillin) before going back to war in Africa where he created the Biafran Air Force and flew many incredible operations in his personal B26 Marauder. Zumbach made his home in France until his death in 1986 (hence calling himself 'Jean').
 A very scarce autobiography of a great fighter ace which bears the marks of two famous aces and was used as the source for Lucas's superb anthology.