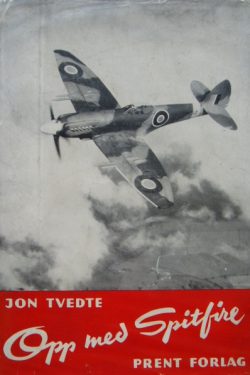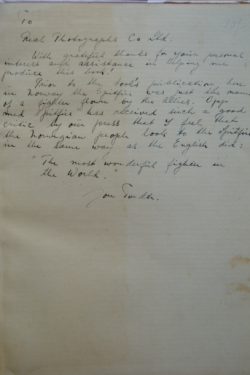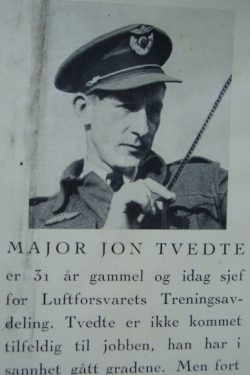 Opp Med SPITFIRE
'Up With The Spitfires'
Signed by Major Jon Tvedte DFC
Sold
Inscribed & signed by Major Jon Tvedte DFC
To Real Photographic Co Ltd
With grateful thanks for your personal interest and assistance in helping me produce this book!
Prior to the book's publication here in Norway, the Spitfire was just the name of a fighter
flown by the Allies.  "Opp Med Spitfire" has received such a good critic by our own press
that I feel that the Norwegian people look to the Spitfire in the same way as the English did:
"The most wonderful fighter in the World"
Jon Tvedte
Published by Prent Forlag, Oslo, First Edition 1946.  Norwegian language. 143 pages and well illustrated with full page plates and rarely seen photographs, some of which are from the Real Photographic Co which is thanked in the Foreword.
Very Good condition hardback book in its original Very Good condition dustjacket. 
The book is divided into 3 parts.  The first is the story of the development of the Spitfire; the second is an account of the Spitfire's part in the Battle of Britain and the third is largely autobiographical and also describes the part played by Norwegian Fighter Pilots flying the Spitfire in WWII, all accompanied by some excellent photos of both aircraft and personnel.
Major Jon Tvedte (1915-70) was a pre-war military pilot who was injured in the German invasion of Norway in 1940.  Escaping to Canada, he served as a flying instructor in 'Little Norway' training exiled Norwegian pilots before he  got himself an operational posting to 611 Squadron, flying alongside Jack Charles and Johnny Checketts.  He was then posted to 332 (Norwegian) Squadron where he scored one victory over a Focke Wulf 190 in July 1944.  He later commanded 322 Squadron and post-war continued in the military commanding the northerly air base at Bardufoss.  He wrote 3 aviation books of which this was the first. 
An exceptionally rare and unusual Spitfire book with a unique, signed inscription in English.