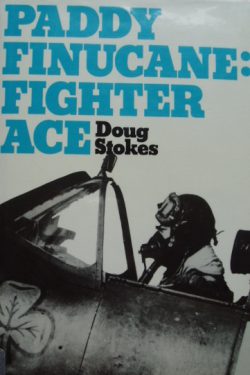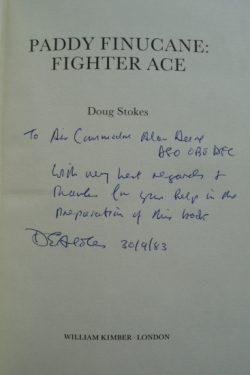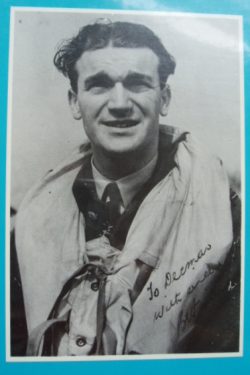 PADDY FINUCANE: Fighter Ace
A biography of Wg Cdr Brendan F. Finucane DSO DFC**
Presentation to Alan Deere
Sold
NOVEMBER ~ *BOOK OF THE MONTH*
There are some aviation books that are so rare and highly sought after by collectors
from all over the world that it would be unfair to sell such a book on a 'first come' basis.
Therefore, each calendar month, Spitfire Books is offering a rare book for sale
and invites collectors to submit a 'best offer' during the month by email or telephone
---
Presentation from the author to Al Deere
inscribed on the title page
To Air Commodore Alan Deere DSO OBE DFC
With very best regards + thanks for
your help in the preparation of this book
Doug Stokes
30/9/83

William Kimber First edition 1983.  219 pages and well-illustrated with photographs
Very Fine condition hardback book and Very Fine condition dustjacket. Clean bright, tight and unread. This scarce volume is in superb condition and comes with some wartime newspaper cuttings about Paddy and his death from 1942.
A lovely example of this hard-to-find biography of Paddy Finucane, the legendary Irish fighter ace who became a legend in his short lifetime, widely publicized in the press.  He flew with 65 Squadron during the Battle of Britain, was a flight commander with the first Australian squadron in Britain, 452, where his qualities of leadership became apparent. He then commanded 602 Squadron and soon after was appointed Hornchurch Wing Leader. Modest by nature, he was upset by the constant references to himself as 'Bader's Successor'. But the spotlight never left him even after his meteoric rise was curtailed when he was lost over the Channel in July 1942 with his tally standing at 32 enemy aircraft destroyed.
A unique presentation copy to a legendary WWII ace and commander is a rare find and would make a great addition to any Battle of Britain collection.