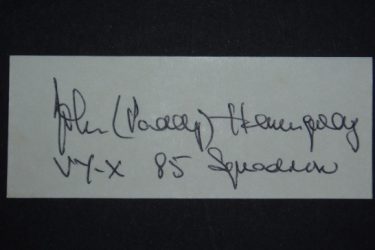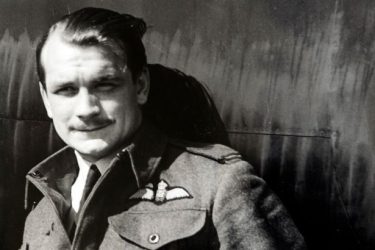 Paddy Hemingway ~ The Last of 'The Few'
Signed label
Signed by Gp Capt John Hemingway DFC
Sold
NOVEMBER     ~    *SIGNATURE OF THE MONTH*
There are some aviation signatures that are very sought after by collectors
from all over the world, from pioneer pilots and designers to aces and astronauts. 
Therefore, each calendar month, Spitfire Books is offering an interesting signature for sale
and invites collectors to submit a 'best offer' during the month by email or telephone
---
A label with the surprisingly scarce signature of The Last of 'The Few'
Group Captain John 'Paddy' Hemingway DFC
85 Squadron Battle of France & Battle of Britain
Commanding Officer 43 Squadron ~ 1945
Now aged 101, Group Captain John Hemingway is the last verified surviving airman of the Battle of Britain
Born in Dublin in 1919, 'Paddy' joined the RAF on a short-service commission in 1938 and after training was sent to France in early 1940 to fly Hawker Hurricanes with 85 Squadron. During the Battle of France in May, Paddy claimed a He111 destroyed and shared a Do17 before his Hurricane L1979 was struck by flak and he had to make a forced-landing. He managed to re-join his squadron and was sent back to England for a short-spell with 253 Sqn at Kirton-in-Lindsay, before returning to 85 Squadron at RAF Debden on 15th June 1940.
On 18th August 1940,  known as the 'Hardest Day',  Paddy bailed-out of his Hurricane V7249 after he was hit by return fire from a Ju88. Falling into the sea he was rescued two hours later when the lightship searching for him accidentally ran him over 12 miles out from Clacton. Paddy was  shot down again 8 days later by an Me109, bailing out over Eastchurch, but was soon back flying and damaged an Me109 on 31st August.  After the Battle of Britain the Squadron, still commanded by Peter Townsend, switched to night fighting with the twin engine Havoc.
Awarded the Distinguished Flying Cross in 1941, Paddy spent some years in a variety of postings before commanding 43 Squadron flying Spitfires in Italy. On 23rd April 1945, Paddy was  again hit by groundfire and baled out unhurt and once again managed to evade capture. He remained in the RAF post-war and after a tour as Station Commander of RAF Leconfield, time in the Air Ministry and at NATO, he retired from the RAF in September 1969 as a Group Captain.
The label measures approx. 9 x 4 cm and is in Very Good condition with a self adhesive back