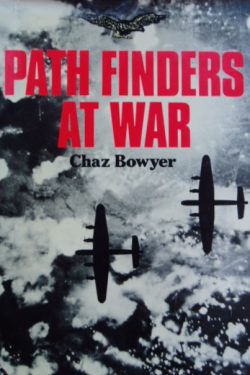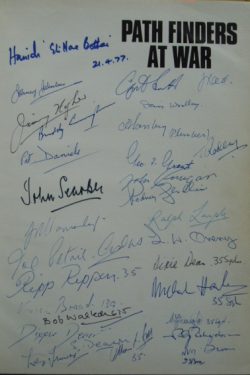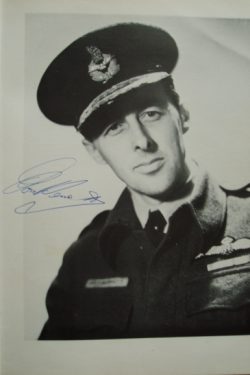 PATH FINDERS at WAR
Multi-signed by Path Finder Force Aircrew
Price: Serious offers invited until 30th November 2020
NOVEMBER ~ *BOOK OF THE MONTH*
There are some aviation books that are so rare and highly sought after by collectors
from all over the world that it would be unfair to sell such a book on a 'first come' basis.
Therefore, each calendar month, Spitfire Books is offering a rare book for sale
and invites collectors to submit a 'best offer' during the month by email or telephone
---
Presentation copy signed by
MRAF Sir Arthur Harris     &      Air Vice-Marshal Don Bennett


+
37 Members of the Path Finder Force
---
Presented to Squadron Leader Howard Lees by the author, Chaz Bowyer 4 April 1977
inscribed on the front end paper~
'To Howard Lees with most grateful thanks for invaluable and most generous help'.
---
Signatures in the book include:
Gp Capt Hamish Mahaddie DSO DFC AFC, Johnnie Johnson DFM, Wg Cdr Pat Daniels DSO* DFC*,
Air Cdre John Searby DSO DFC, Joe Petrie Andrews DFC DFM, Wg Cdr Ernest Rodley DSO DFC AFC,
Wg Cdr George Grant DSO DFC, Gp Capt Dixie Dean DSO DFC*, Air Vice-Marshal Ivor Broom KGB CBE DSO DFC AFC,
Sqn Ldr Tommy Broom DFC**, Wg Cdr Bobby Burns DSO DFC
+ handwritten letter to Howard Lees from Don Bennett and two more from Ly Bennett
Ian Allen First Edition, first impression 1977.  160 pages and very well illustrated with photographs.
Very Good condition hardback book and Very Good condition dustjacket.  Apart from an old tape mark to the front and rear end papers, the book is very presentable.
The Path Finder Force was perhaps the most experienced and highly trained elite created within the RAF during WWII. This book is not a history of the PFF but an attempt to recreate in words and pictures something of the authentic atmosphere of the subject and its place in history.  Much of the narrative and many of the photographs come from men with first hand experience – men who flew with or were an integral part of the PFF. They alone are the best qualified to recount the Path Finder story.
In his letter to Howard Lees, Don Bennett writes: 'On the general question of recognition I can offer you no great comfort.  Thousands who did great things in the war were overlooked when honours were handed out.  The Pathfinder Force in particular and many of those who were in it suffered sadly.  As I said at a recent Pathfinder Reunion, "the only redress and comfort is that we know in our own hearts how much we did to win victory". I for one know the part you played.'
Squadron Leader Howard Lees was the 8 Group Photographic Officer.  His many ideas and practical inventions included the 'master' and 'slave' cameras which eliminated fire tracks caused by the open shutters of normal night cameras; thereby obtaining clear, undistorted target photos for analysis.
In the Introduction Bowyer writes: 'Howard Lees cheerfully permitted me to pester him on many occasions and never once failed to meet my importunacy with open handed hospitality.  As the Group Photographic Officer of the PFF his personal contributions to the high efficiency of the force were prodigious.'
An excellent and unique Path Finder book enhanced by an outstanding collection of signatures of many of its surviving senior members.
Click any picture to enter the gallery………….