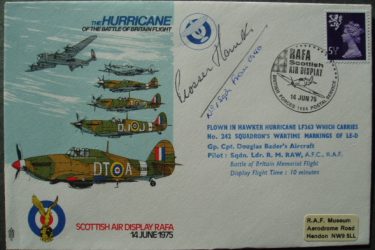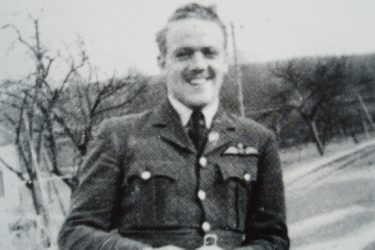 PETER PROSSER HANKS
Battle of France/Malta rare signature
Cover signed by Gp Capt Peter Prosser Hanks
Price: Serious offers invited until 31st March 2023
MARCH    ~    *SIGNATURE OF THE MONTH*
There are some aviation signatures that are very sought after by collectors
from all over the world, from pioneer pilots and designers to aces and astronauts. 
Therefore, each calendar month, Spitfire Books is offering an interesting signature for sale
and invites collectors to submit a 'best offer' during the month by email or telephone
---
Group Captain Peter Prosser Hanks DSO DFC AFC

(1917-1986)
Flight Commander 1 Squadron during the Battle of France
'Prosser' in Paul Richey's book 'Fighter Pilot'
Between 10-15 May 1940, he claimed 6 victories in 5 days
Instructor at 5 OTU during the Battle of Britain but still shot down a Ju88 on 25th July 1940
Joined Stanford Tuck's 257 Squadron in December 1940 and is mentioned in 'Fly For Your Life':
'Brothers was replaced as flight commander by a stumpy, fair-headed officer with
a swooping cavalry moustache – Peter Prosser Hanks. Prosser as he was invariably known,
had distinguished himself in the early days with the famous No 1 Squadron in France and
was one of the most brilliant pilots in the service'.
Commanding Officer 56 Squadron 1941
Wing Leader Duxford then Coltishall Wings in 1942
MALTA ~ Wing Leader Luqa 1942
~ Station Commander RAF Hal Far 1943
Ace with 13+ victories
 A very scarce Battle of France and Defence of Malta signature
as Prosser moved to South Africa and died there in 1986