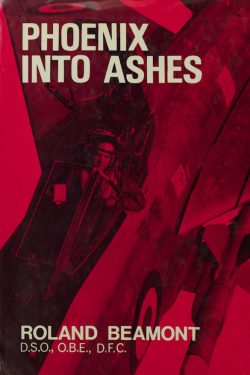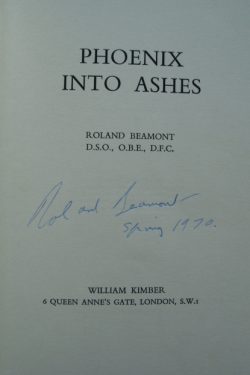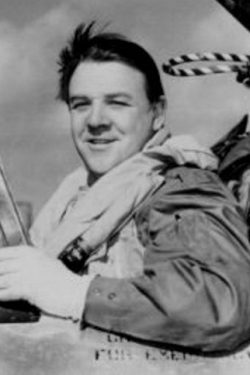 PHOENIX into ASHES
By Wg Cdr Roland Beamont DSO* OBE DFC*
Signed by Roland Beamont
Sold
Signed and dated by Roland Beamont on the title page
William Kimber First edition 1968.  192 pages plus photographs
Fine condition hardback book in dark blue boards with gold titles. The unclipped dustjacket is in Near Fine condition with a short closed tear to the rear panel.  Very unusually, there is no fading to the spine of the jacket which retains the exact vivid red colour of the rest of the dustjacket.
This was the first of several books that Roland Beamont wrote about his illustrious career as a fighter and test pilot.  In the first part of this book, Bee describes his wartime career. From flying Hurricanes in the Battles of France and Britain he started test flying and conducted many of the Typhoon test flights. Back on operations, he commanded the first Typhoon squadron to specialise in ground attack and he led a Tempest wing on D-Day operations and into Normandy.
Part II of the book deals with Bee's test pilot career. After the war he became the first British pilot to fly faster than the speed of sound and flew the first flights of the Canberra, Lightning and TSR-2. He was the latter's test pilot from start to finish and this book was written not long after the cancellation and his sense of triumph and frustration is all too evident in the closing chapters.
This is one of the rarest Kimber books and a signed copy in this condition would be a tremendous addition to any aviation library.