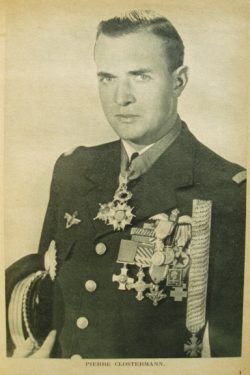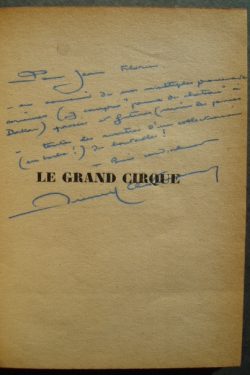 PIERRE CLOSTERMANN
Signed page
Signed by Pierre Clostermann DFC*
Sold
A half-title page from Pierre Clostermann's book 'Le Grand Cirque'
inscribed & signed by
Pierre Clostermann DFC
(1921-2006)
Pierre Clostermann flew Spitfires and Tempests during the second half of WWII and survived over 420 operational sorties to become one of France's top aces, a politician and her most highly decorated citizen.
His memoir 'Le Grand Cirque' translated as 'The Big Show'  based on a diary Clostermann kept throughout his war has sold over 3 million copies to become one of the classic, if controversial, accounts of the air war.
The page comes with a portrait picture and several photos from the book.  NB. The page fits neatly into the Chatto & Windus first edition of 'The Big Show'.