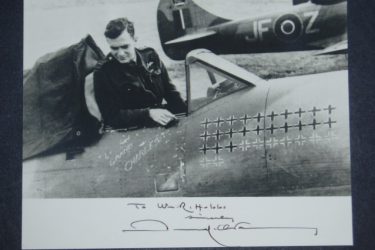 PIERRE CLOSTERMANN
Photo-card
Signed by Pierre Clostermann DFC*
Price: Serious offers invited until 31st March 2019
MARCH     ~    *SIGNATURE OF THE MONTH*
There are some aviation signatures that are very sought after by collectors
from all over the world, from pioneer pilots and designers to aces and astronauts. 
Therefore, each calendar month, Spitfire Books is offering an interesting signature for sale
and invites collectors to submit a 'best offer' during the month by email or telephone
---
A photo-card of Pierre Clostermann and his Tempest 'Le Grand Charles'
Signed by
Pierre Clostermann DFC
(1921-2006)
Pierre Clostermann flew Spitfires and Tempests during the second half of WWII and survived over 420 operational sorties to become one of France's top aces, a politician and her most highly decorated citizen.
His memoir 'The Big Show'  based on a diary Clostermann kept throughout his war has sold over 3 million copies to become one of the classic, if controversial,  accounts of the air war.
The photo-card measures approx. 13 x 10 cm and is in Fine condition