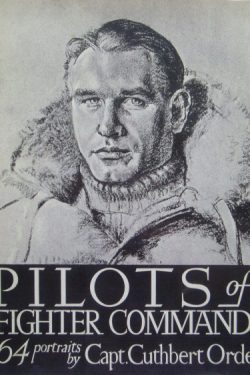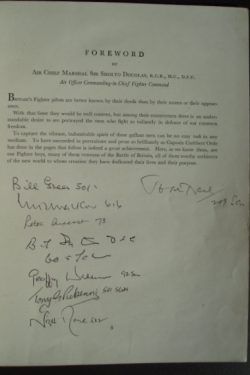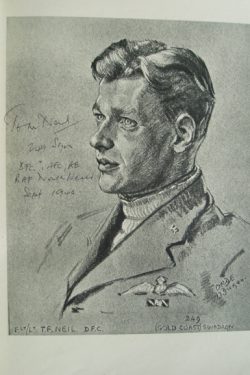 PILOTS of FIGHTER COMMAND
64 Portraits by Captain Cuthbert Orde
Signed by Battle of Britain Pilots
Sold
Signed by Wing Commander Tom Neil on his portrait
+ signed on the Foreword by Battle of Britain Pilots
Bill Green, William Walker, Peter Ayerst
Bob Foster, Geoffrey Wellum, Tony Pickering
Nigel Rose & Tom Neil
Harrap & Co Ltd First edition, 1942. The book is quarto (25 x 19cm) with 32 pages of text and 64 plates bound in two tone blue and tan buckram.
This is a Very Good condition clean copy with some faint age marks on the endpapers only. All the plates and text pages are in unmarked condition. There is a small previous owner dedication on the reverse of the front end paper dated April 1945. Please note that the book has a REPRODUCTION DUSTJACKET and consequently looks very smart in a protective cover. 
Orde's book is one of the most scarce and sought after of RAF books with its marvellous portraits of fighter pilots, many of which were sketched during the Battle of Britain.  Amongst the 64 portraits are most of the famous names  and the accompanying pen sketches also written by Orde give a superb contemporary insight into the characters of these men.
An iconic Royal Air Force book which is exceptionally hard to find in any condition.  This is a lovely copy, particularly as it signed by one of the featured pilots. A fantastic addition to any aviation library.