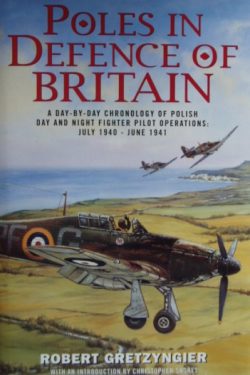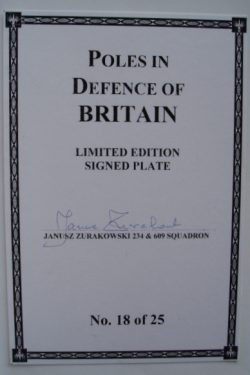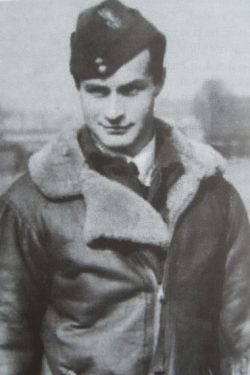 POLES in DEFENCE of BRITAIN
Polish Fighter Pilot Operations: July 1940 ~ June 1941
Signed by Jan Zurakowski
Publisher's Bookplate signed by Janusz Zurakowski 

 



Grub Street First Edition 2001. 294 pages, lots of photos and detailed appendices
Fine condition hardback book and dustjacket. Clean tight and bright. Nearly as new.
Over 100 Polish fighter pilots escaped to Britain to carry on the fight despite the fall of their own country.  This book is a detailed chronology of Polish fighter operations from the start of the Battle of Britain to the beginning of the offensive into Europe.  It includes detailed combat descriptions, personal accounts, biographies and offers a complete account of the incredible contribution these gallant pilots made to the defence and survival of the country which they called 'Last Hope Island'.
Jan Zurakowski
'Zura' was a Polish fighter pilot who escaped to England and during the Battle of Britain flew Spitfires with 234 and 609 Squadrons.  Later in the war he commanded 316 squadron and then became a Test Pilot with Gloster and then Avro Canada where he was Chief Test Pilot and was responsible for the ill fated Avro Arrow. 
At the Farnborough airshow in 1951 he caused a storm by demonstrating the 'Zurabatic cartwheel' in a Meteor – an aerobatic manoevre that caused disbelief even amongst those who witnessed it!  With superb piloting and engineering skills, Zura was one of the world's great test pilots.
A comprehensive account of the Polish contribution to the Battle of Britain with a nice signed bookplate.