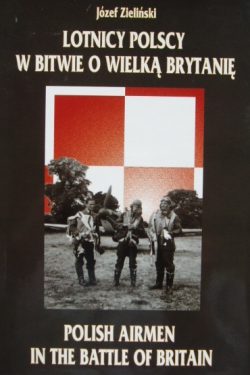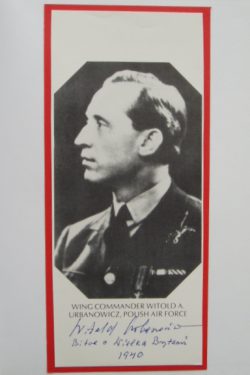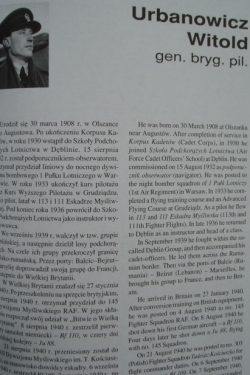 POLISH AIRMEN in the BATTLE of BRITAIN
By Josef Zielinski
Signed by Witold Urbanowicz
Sold
Bookplate signed by Witold Urbanowicz

 



'Bitwie o Wielka Brytanie 1940'
Published by Oficyna Wydawnizca. First edition (1990?).  280 pages and well illustrated with photos of each pilot and at the back of the book there are 16 colour profiles depicting individual Spitfires and Hurricanes flown by Polish pilots in the Battle of Britain
Fine condition hardback book and dustjacket. Unread and nearly as new.  NB. The bookplate is not attached to the book.
This is a bilingual (Polish & English) biographical directory of the 144 Polish airmen who flew operationally over Britain during the Battle of Britain in RAF or Polish fighter squadrons.
As well as the famous pilots of 303 Squadron, the book also gives detailed biographies of lesser known pilots and gives a representative overview of the fates of Polish airmen before and during WWII as well as in the postwar period.  Sixteen colour profiles illustrate the aircraft flown by Polish pilots of the Battle and a very useful index shows which pilots flew in which squadrons.
---
Witold Urbanowicz (1908 ~ 1996)
Urbanowicz was the second highest scoring Polish fighter ace in World War II. During the Battle of Britain, he was credited with fifteen victories and commanded 303 Squadron then helped to set up the first Polish fighter wing at Northolt.  In 1942 he was sent to the USA to recruit Americans of Polish descent and give lectures and he also flew P40s in China and shot down two Japanese aircraft. Post war he settled in the USA.
---
This is an extremely scarce publication, deserving a place in any Battle of Britain library and in addition, is ideal for displaying the signatures of the Polish pilots listed within.  Individual signatures of Jan Kowalski and Ludwig Martel are available at £10 each.