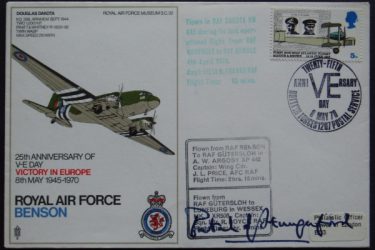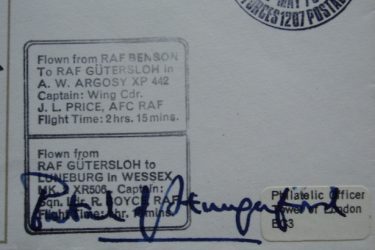 PORTAL of HUNGERFORD
RAF Museum Signed Cover
Signed by Viscount Portal of Hungerford
RAF Cover 197o
Signed by PORTAL of HUNGERFORD
MRAF Viscount Portal of Hungerford KG GCB OM DSO* MC
In Churchill's phrase, 'Peter' Portal was 'the accepted star of the Royal Air Force' but he could also be called 'The unknown victor' as alone amongst the great WWII leaders he left no account of his life.  Thus the wartime head of the RAF is little remembered by the public to whom his subordinates such as Dowding, Harris and Tedder are much more familiar.
Marshal of the Royal Air Force Charles Frederick Algernon Portal, 1st Viscount Portal of Hungerford (1893 – 1971) was a senior Royal Air Force officer who started his career by enlisting in the Royal Engineers on the outbreak of WW1.  Within weeks he gained a commission then transferred to the RFC where he was a pilot, then a flight commander and then a squadron commander flying light bombers on the Western Front. A protegee of Lord Trenchard, by the early stages of the Second World War Portal had been promoted to commander-in-chief of Bomber Command.
The ultimate appointment within the RAF, that of Chief of the Air Staff, was assumed by Portal in October 1940 placing him directly over a number of Air Officers with seniority over him. He continued in this capacity for the remainder of the war, being the youngest of the Chiefs of Staff until the arrival of Lord Mountbatten. He quickly gained a reputation for clear thinking and diplomacy and was a favourite of Churchill. When he retired from the post in December 1945 he had held the position for over five years, a period of time only exceeded by Trenchard.  In retirement Portal was chairman of British Aluminium and then became chairman of the British Aircraft Corporation.
A rare signed cover from one of the RAF's legendary commanders, 
Fine condition