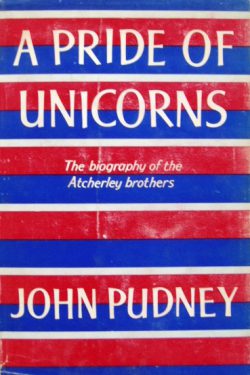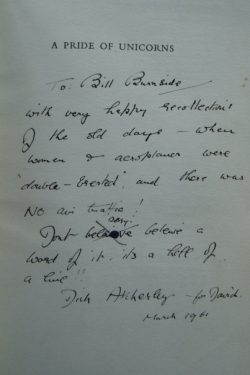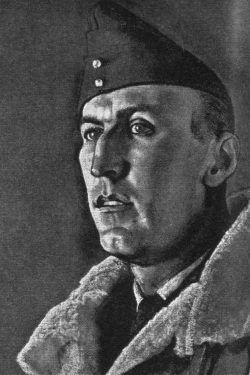 A PRIDE of UNICORNS
Richard & David Atcherley of the RAF
Signed by Air Marshal Sir Richard Atcherley
Sold
JANUARY ~ *BOOK OF THE MONTH*
There are some aviation books that are so rare and highly sought after by collectors
from all over the world that it would be unfair to sell such a book on a 'first come' basis.
Therefore, each calendar month, Spitfire Books is offering a rare book for sale
and invites collectors to submit a 'best offer' during the month by email or telephone
---
Inscribed & signed on the half title page by Richard (Dick) Atcherley
To Bill Burnside, with very happy recollections of the old days – when
women and aeroplanes were 'double-breasted' and there was NO air traffic!
Don't believe a word of it: it's a hell of a line!!
Dick Atcherley – for David, March 1961

Published by Oldbourne. First edition 1960. 240 pages plus photographs.
Very Good condition hardback book in a Very Good dustjacket, complete but with some edgewear at the corners.  The book belonged to Squadron Leader William Burnside (1915-67) and there is a gift presentation to him from his wife on the front end paper dated Christmas 1960.  On the reverse of the front end paper, Bill Burnside has written and signed a short note:
I have known Dick since 1932.
I served very happily with David in Transport Command 1944-46, HQ 46 & 47 Goups, Milton Ernest, nr Bedford.
NB. During the Second World War the Milton Ernest Hall was used as a base for Special Operations Executive, a small grass landing strip being laid in the grounds. In 1944 it became the United States Eighth Air Force's support command headquarters and had OSS connections.  A plaque at the Hall, (now a care home) honours the members of the United States Eighth Air Force (including Major Glenn Miller) who were stationed there.
The Atcherley twins were legendary figures in the RAF. The identical twins rose rank by rank through outstanding wartime careers until AVM David Atcherley was posted missing in 1952 on a flight in a Meteor from Egypt to Nicosia, in circumstances which remain a mystery to this day and Air Marshal Sir Richard Atcherley retired in 1960 (and died in 1970).
Richard Atcherley was an exceptional pilot and was a  member of the successful Schneider Trophy team and also won the Kings Cup Air Race. He was a squadron commander at the outbreak of WWII and became a senior commander in the Desert Air Force. He had a very colourful career and at one time kept a pet lion which he frequently took flying!  The exploits and achievements of the Atcherleys are well and amusingly recounted in this interesting double biography. 
This is an exceptionally rare signed RAF book by any standard, enhanced by an interesting provenance.