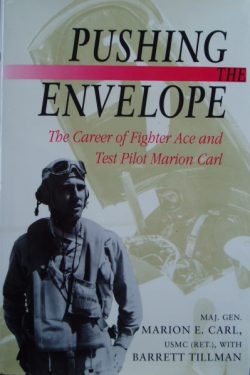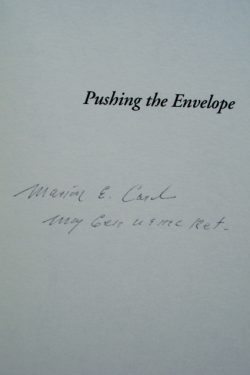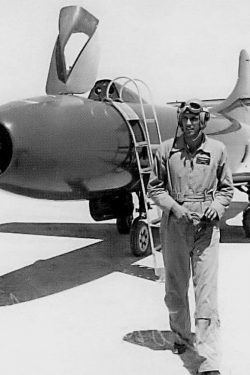 PUSHING the ENVELOPE
The Career of Fighter Ace and Test Pilot Marion Carl USMC
Signed by Marion Carl
Signed on the half title page by
Marion E. Carl
Maj Gen USMC ret.
Naval Institute Press. First edition, first printing 1994.  133 pages and well illustrated with photographs.
Very Fine condition hard back book in two tone red and cream boards.  Very Fine condition dustjacket. An absolutely immaculate copy in all respects.
Major General Marion Eugene Carl (1915 – 1998) was a World War II fighter ace, record-setting test pilot, and Naval Aviator. 
Carl's imposing list of 'firsts' begins with his World War II career when he became the first Marine Corps ace, fighting at both Midway and Guadalcanal, and finishing the war with 18.5 victories.  In 1946 he was the first Marine to fly a helicopter and the first Marine to land a jet aboard an aircraft carrier. 
Qualifying as a test pilot, in 1947 he set a World Speed Record in the Douglas Skystreak and in 1953 set a World Altitude Record in the Douglas Skyrocket.  He also led the first Marine jet aerobatic team.  As a test pilot he flew 30 different experimental aircraft and over his 14000 hour career he flew 260 types of aircraft. Further combat tours saw him fly in Korea and Vietnam.
Such achievements also led to Carl being the first living Marine admitted to the Naval Aviation Hall of Honor, as well as the first Marine to be named to the Navy Carrier Aviation Test Pilots Hall of Honor.  He retired as a Major General in 1973 having been awarded 2 Navy Crosses, 5 DFCs, 4 Legion of Merits and 14 Air Medals.  He died in 1998 whilst tackling an armed intruder in his home and was buried with full military honours at Arlington.
This is a very scarce flat signed copy of the autobiography of one of the USMC's greatest aviators, both a combat ace and test pilot.