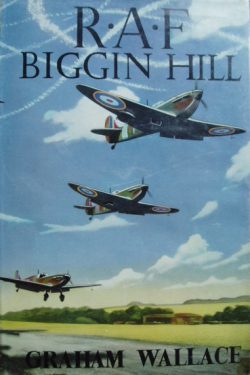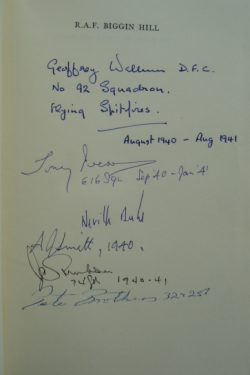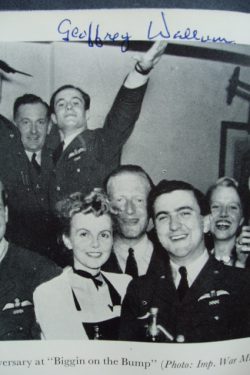 RAF BIGGIN HILL
By Graham Wallace
Multi-signed by Battle of Britain Pilots
Signed on the half title page by 6 distinguished pilots
who flew from Biggin Hill during or after the Battle of Britain
Geoffrey Wellum ~ 92 Squadron
Tony Iveson ~ 616 Squadron
Neville Duke ~ 92 Squadron
Arthur Smith ~ 74 Squadron
John Freeborn ~ 74 Squadron
Pete Brothers ~ 32 Squadron

also signed by Geoffrey Wellum above his photo on page 241
Published by Putnam. First edition, first printing 1957.  288 pages and well illustrated with photographs.
Fine condition hardback book and Near Fine condition unclipped dustjacket.
This is the story of the most famous fighter airfield in the world. Founded in 1917 as a wireless research establishment, it became a key defence station initially with Bristol Fighters scoring Biggin's first victory against German Gotha bombers in May 1918, though the  inter-war years and the strategically important role in the Battle of Britain and afterwards with a total tally of some 1600 enemy aircraft. The reputation of Biggin Hill is world famous with many of the famous aces flying from and commanding Squadrons and Wings there: household names such as Sailor Malan, Bob Stanford Tuck, Al Deere, Mike Crossley, Brian Kingcome as well as the Free French and US Eagle Squadrons.
This is a smart book with an excellent collection of signatures representing the main squadrons who flew from Biggin during the Battle of Britain; 92, 32 and 74.