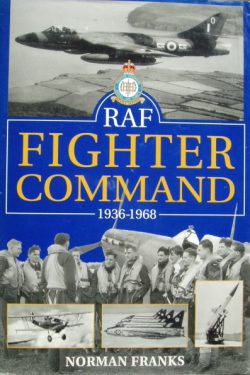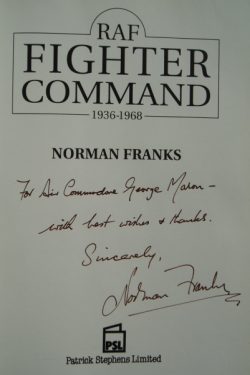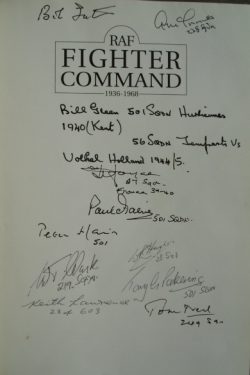 RAF FIGHTER COMMAND
1936 ~ 1968
Multi-signed
Presentation inscription to Air Cdre George Mason DFC who contributed to the book
and signed by 10 Battle of Britain Pilots

Bill Green, Frank Joyce (Battle of France)
Terry Clark, Paul Farnes, Bob Foster, Peter Hairs, 
Bob Hughes, Keith Lawrence, Archie McInnes,
Tony Pickering, Tom Neil, 
Patrick Stephens Ltd first edition 1992.  253 pages and well-illustrated with black and white photographs.
Fine condition hardback book with a similar condition dustjacket.  Clean, bright and tight.
The name Fighter Command conjures up an image of Spitfires and Hurricanes in the Battle of Britain but Fighter Command's story spanned more than three decades.  From silver biplanes to supersonic and VTOL jets, the author tells the story of this most famous Command from a broad strategic perspective and the insights of men who led operations and the fighter pilots themselves.
George Mason joined the RAFVR in 1940 and after training was posted to 122 Squadron and then almost immediately onto 611 Squadron as a Sergeant Pilot. In August 1941 on operations over France, his Spitfire was attacked by a Bf109 but he managed to get his aircraft back across the Channel and force landed near Deal becoming badly injured in the process.  He flew with 64 and 222 Squadrons scoring 3 victories and was shot down again, becoming a POW. Post war, he flew a variety of jets, including the Lightning and commanded RAF Chivenor.
A neat collection of Battle of Britain signatures in a relevant book.