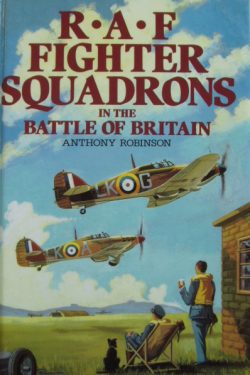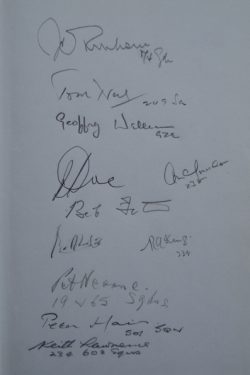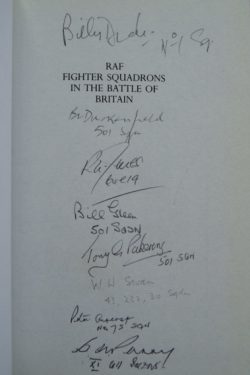 RAF FIGHTER SQUADRONS
in the Battle of Britain
Multi-signed
Signed by 15 Battle of Britain Pilots on the front end paper and half title pages

 John Freeborn, Tom Neil, Geoffrey Wellum, Bob Doe
Archie McInnes, Bob Foster, Roger Morewood
Bob Kings, Peter Hairs, Keith Lawrence
Billy Drake, Byron Duckenfield, Richard Jones
Bill Green, Tony Pickering
+ 4 other veteran WWII RAF fighter pilots ~
Peter Ayerst, Pat Hearne, WH Swan, Owen Parry

Brockhampton Press revised edition 1999.  287 pages including a list of all the participating squadrons and their Commanding Officers. Illustrated with black and white photographs.
Fine condition hardback book with a similar condition dustjacket.  Clean, bright and tight.
Many books have been written about the Battle of Britain but few have examined the course of the conflict from the point of view of the fighter squadrons themselves. Squadrons were the basic combat units in RAF Fighter Command; their combat effectiveness was a factor of crucial importance transcending even the abilities of the brilliant individual pilots within the squadrons and the tactical and strategic skills of the senior commanders who deployed them.
That the Battle of Britain was not won by courage alone emerges from the pages of this book, which examines the problems of tactics and leadership encountered by the RAF's fighter force when thrown into a battle for which it was less than adequately prepared. The author considers the general course of the Battle of Britain and the organization, tactics and equipment with which the RAF went to war. Then he concentrates on the operations and experiences of 8 squadrons heavily engaged in the battle, describing and analysing the events, decisions and circumstances of the daily encounters with German intruders.
A neat collection of Battle of Britain signatures in a relevant book.