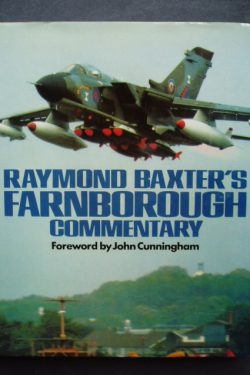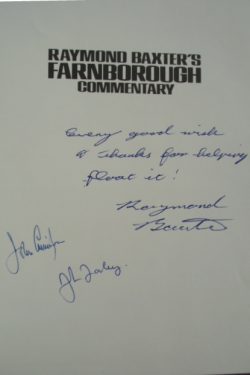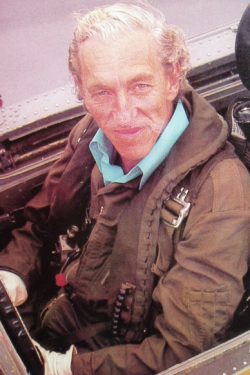 Raymond Baxter's FARNBOROUGH Commentary
The Greatest Show on Earth 1950 ~ 1980
Signed by Raymond Baxter & Test Pilots
Signed by Raymond Baxter, John Cunningham & John Farley
"Every good wish and thanks
for helping float it"!
Patrick Stephens. First edition, 1980.  112 pages and well illustrated with photographs
Fine condition hardback book and dustjacket. Clean, tight and bright. A superb copy.
The Farnborough air display (in its heyday) was often cited as 'the greatest show on earth' – a claim to which many of us will testify.  This book recaptures the highlights and nostalgia of these internationally famous events since their inception.  Containing scores of previously unpublished photographs as well as a discerning commentary by the voice of Farnborough, presenter and ex-Spitfire pilot Raymond Baxter, it is both a personal and a universal tribute to fine machines and even finer men. 
The foreword was written by Battle of Britain night-fighter ace and famed test pilot Group Captain John 'Cats-eyes' Cunningham CBE DSO** DFC* who did his share of Farnborough display flights over the years. He writes "Probably the Harrier has caught the eye more than any other aircraft in recent years and Raymond Baxter gives a good account of its astonishing capabilities".
Harrier Chief Test Pilot John Farley has a chapter to himself in this book as Baxter describes his flights with John in the famous two-seat Harrier G-VSTOL in several Farnbrough shows.  An excerpt reads "In those four and a half minutes of John Farley's display we took off and landed twice; our flying speed ranged from zero to in excess of 500Kts three times; our altitude from about 50 feet at high speed to stationary at 1000; he performed two wing overs, two quick rolls, a Derry turn and an inverted fly-past; we 'viffed' and in the initial take off and first landing the crowd watched an aeroplane in attitudes they had never seen before.  For me it was not what could be described as a comfortable ride. I have never been 'banged about' so much in any aeroplane, simply because no other aeroplane has the Harrier's breathtaking ability to stop and go. It was the most exciting flying imaginable. It was unforgettable, not least because I was allowed the privilege of sharing for those brief moments the experience of a world master in the practice of his chosen craft."
This is a great example of a very nostalgia-inducing book, enhanced by three great signatures.