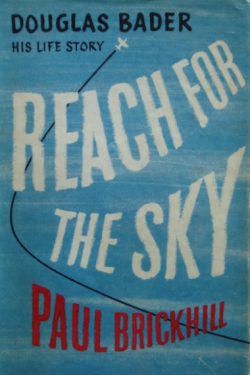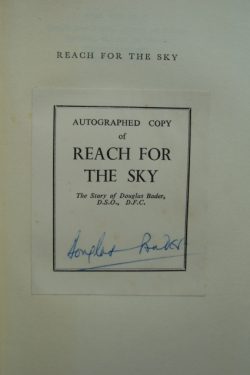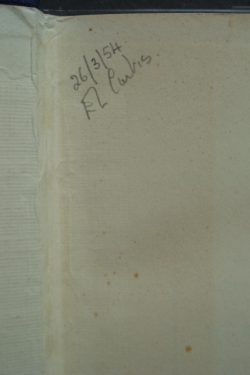 REACH for the SKY
Douglas Bader's Life Story
Signed by Douglas Bader
Sold
From the collection of Lettice Curtis


~ her ownership name and date on the front end paper ~


26/3/54 ~ EL Curtis
Original publisher's bookplate signed by Douglas Bader
on the half title page
Published by Collins. First edition, 1st  impression 1954.
Very Good condition book, clean, tight and bright.  Very Good condition unclipped  dustjacket in a protective cover. The book comes with a number of newspaper cuttings about Douglas Bader.
This book needs no introduction as it is probably the most famous pilot biography of them all. Douglas Bader was a true legend and eighty years after the Battle of Britain his is still a household name.
Eleanor Lettice Curtis (1915 – 2014).
In early July 1940 Lettice Curtis became one of the first women pilots to join the Air Transport Auxiliary remaining with the ATA until 30 November 1945, when the organisation was closed down. She commenced her ATA career by delivering primary training aircraft such as the Tiger Moth, progressing to the Miles Master and North American Harvard advanced trainers. During her ATA service she graduated to fly all categories of wartime aircraft and was one of the first dozen women to qualify to fly four-engined heavy bombers. She was the first woman pilot to deliver an Avro Lancaster bomber and also flew 222 Handley Page Halifaxes and 109 Short Stirlings. She flew continually during World War II from various Ferry Pool locations delivering all types through all weather to various destinations flying for sixty-two consecutive months between July 1940 and September 1945.

Post war, Lettice worked as a flight test observer at Boscombe Down and then moved to Fairey Aviation at White Waltham, the spiritual home of the ATA. She took an active part in British air racing, flying various aircraft including her Wicko and a Spitfire owned by the American air attaché in London. She was a founding member of the British Women Pilots' Association. She qualified to fly helicopters in October 1992 and continued to fly until voluntarily "grounding" herself in 1995 and passed away aged 99 in 2014.
An interesting Association copy of this iconic book with a clear and bold 'early' Bader signature.