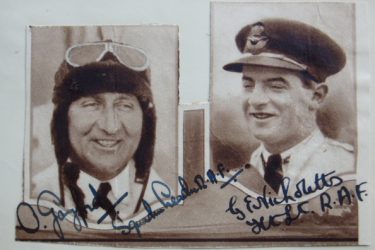 Record-breaking RAF Pilots
1933 Long Distance Fliers
Signed by Sqn Ldr Gayford & Flt Lt Nicholetts
Rare signatures of the 1933 World Long Distance record setters
  Cranwell to Walvis Bay ~ 5410 miles
in a Fairey Long-Range Monoplane
Picture from a magazine mounted on an autograph book page signed by
Air Commodore Oswold Gayford CBE, DFC*, AFC  (1893-1945)

Enlisting in the RNVR in 1914, he  transferred to the RNAS as an Observer in 1916 serving in the Aegean, and then Russia and British Somaliland. On his return to the UK he trained as a pilot and  joined No 1 Squadron in Iraq flying Sopwith Snipes.  After a variety of postings, his experience of navigation, experimental flying and operations in the Middle East and Africa were then all brought into play with his appointment as Officer in charge of the RAF Long Range Flight. The culmination of this post being the setting of a new World distance record with Nicholetts in 1933.
Further postings followed before he found himself once again in command of what was now called the Long Range Development Unit.  Although not involved in the actual flights, his unit set another World distance record in July 1938 when two Vickers Wellesleys led by Sqn Ldr R G Kellett flew from Egypt to Darwin in Australia.  The distance covered being 7,162 miles in a flying time of 52 hours.
Command of RAF Wattisham followed, after which he moved to the Middle East to command No 231 Wing and later No 205 Group.  Returning to the UK he joined Bomber Command as AOC of No 33 Base. Retiring from the RAF in 1944, but only lived long enough to witness the end of the war in Europe and unfortunately not the final surrender of the Japanese.
Air Marshal Sir Gilbert Nicholetts, KBE, CB, AFC*  (1902-1983)

Educated at Royal Naval College, Dartmouth, Nicholetts joined the Royal Air Force in 1921. He developed a career in flying boat units and in the late 1920s he was based in the Far East, flying the Short Singapore.  In 1933, as a navigation specialist, Nicholetts established a long-distance flight record from England to South Africa as aircrew on the Fairey Long-range Monoplane, being awarded the Air Force Cross.
Nicholetts was appointed Officer Commanding No. 228 Squadron, just after the outbreak of the Second World War. Based at Alexandria, Egypt, flying a Short Sunderland, Nicholetts personally commanded the RAF reconnaissance flight preceding the November 1940 Fleet Air Arm Taranto raid. He went on to be Station Commander at RAF Haifa and then RAF Shallufa, before later being taken prisoner of war by the Japanese in 1942 in the Dutch East Indies. After the war he held several Senior Commands at home and abroad before retiring in 1959.
Click the link below to view the Pathe news feature…
https://www.britishpathe.com/video/bravo-gayford-bravo-nicholetts-bravo-the-raf 
A rare pair of historic RAF aviation signatures