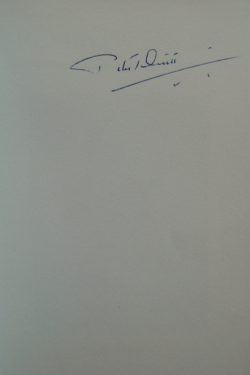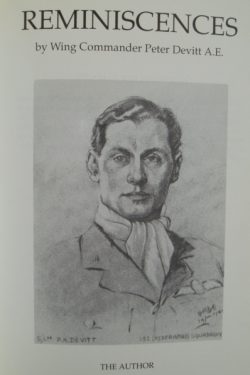 REMINISCENCES
A Memoir by the CO of 152 Squadron in the Battle of Britain
Signed by Wing Commander Peter Devitt
Sold
Signed by Peter Devitt on the first page
Privately Published First Edition 1990.  168 pages including photographs.
Fine condition cardcover book. Clean, tight and bright. A super copy of a very rare book.
Peter Devitt learned to fly before the war and was a member of 600 Squadron RAuxAF. Called to full time service on the outbreak of war, he was promoted to Squadron Leader and took command of 152 (Hyderabad) Squadron in February 1940 and led it through the Battle of Britain until the end of October.  In 1942 he was in Rangoon when it was overrun by the Japanese and he led some 250 RAF personnel northwards to freedom. He stayed in the far east and led a fighter wing in Burma. Post-war, he was Commanding Officer of 615 (County of Surrey) Auxiliary Squadron. In 1940 he also had the distinction of being drawn by Cuthbert Orde.
This book was privately published by Peter Devitt in 1990 and the limited print run makes it one of the most scarce of Battle of Britain memoirs and signed copies are exceptionally hard to find.