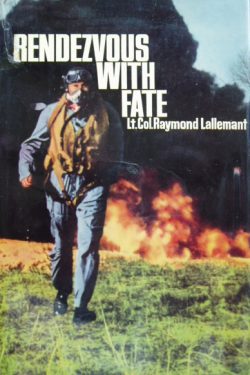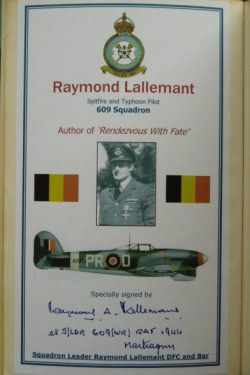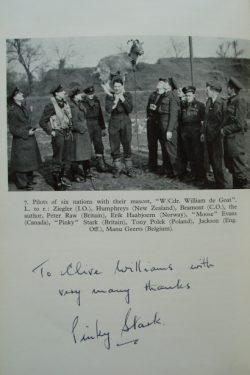 RENDEZVOUS with FATE
The story of a Belgian fighter pilot in the RAF
Signed by Squadron Leader Raymond Lallemant DFC*
Pictorial bookplate signed by Raymond 'Cheval' Lallemant
Also signed by Squadron Leader L.W.F.'Pinky' Stark DFC* AFC,
another 609 Squadron Commander, under a photograph of himself in the book
Published by Macdonald. First edition 1962.   192 pages and well illustrated with photographs.
Very Good condition hardback book in black boards with gilt titles. Very Good condition dustjacket which is scarce in any condition. A smart copy of this scarce book with a unique bookplate that was specially signed by Colonel Lallemant for Spitfire Books in 2004. This book originally came from the collection of the aviation author Clive Williams (Aces High, Tommy Leader).
Raymond Lallemant escaped from Belgium when the Germans invaded, completed his training in England and joined the famous 609 Squadron at Biggin Hill as a Sergeant Pilot. Three years later he was 609's Commanding Officer flying Typhoons over Normandy. Soon after that, during the Arnhem action when his plane was hit and caught on fire, he experienced perhaps the most dramatic escape from death by burning ever to have been described.
He spent several months recovering from the burns to his hands and face. Awarded his second DFC, he returned to duty as CO of 349 (Belgium) Squadron. He flew Spitfires over occupied Germany until he was forced back to England for more "guinea-pig" plastic surgery. Returning to his native country, Lallemant remained in the Belgian Air Force, where he served first as Director of Operations, and then became commander of a fighter wing at Florennes. He spent a year at Maxwell AFB, Alabama, at Air War College and then returned home to a variety of assignments, including command of the Belgian Fighter School and a staff tour at NATO Military Headquarters. He retired from active service in 1972 as a colonel.
An uncommon book which has some particularly vivid descriptions of 609 Squadron operations and flying the 'Tiffie' in action.