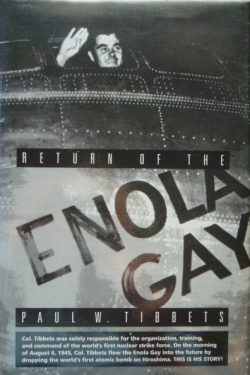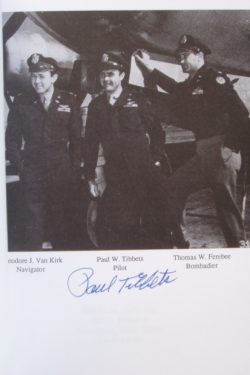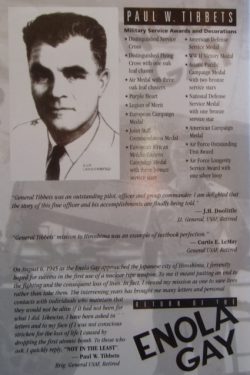 RETURN of the ENOLA GAY
Signed by Colonel Paul Tibbets
Sold
Signed on the frontispiece photo by
Colonel Paul W. Tibbets
Mid Coast Marketing edition 1998.   339 pages and well illustrated with photographs.
Fine condition hardback book and a Fine condition dustjacket. A very smart copy in all respects.  This is the re-writing of "The Flight of the Enola Gay" (1989) by Tibbets with additional chapters, updated material and revisions.
On the morning of August 6, 1945, Col. Tibbets flew the B-29 Enola Gay into history by dropping the world's first atomic bomb on Hiroshima, Japan. This is his story, from his early days, through flight training, his first tour as a B-17 pilot in Europe through to the preparation, training, and testing involved with the first atomic bomb and the top secret mission. Tibbets was in command of the operation and responsible for carrying it out.  Tibbets had a distinguished post-war career, retiring as a Brigadier General and passed away in 2007.
"General Tibbets was an outstanding pilot, officer and group commander. I am delighted that the story of this fine officer and his accomplishments are finally being told."   Lt. General JH Doolittle USAF
A lovely signed copy of this important memoir, rarely found on this side of the Atlantic.