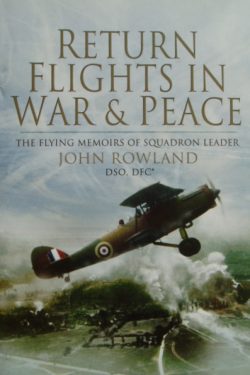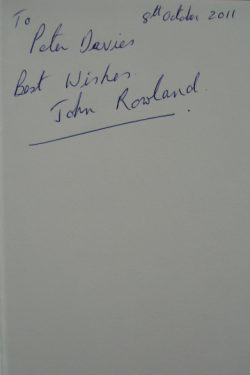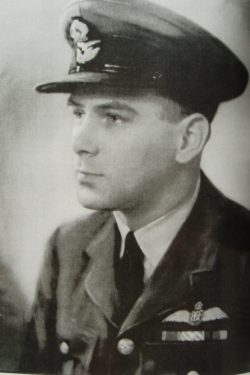 RETURN FLIGHTS in WAR & PEACE
Flying Memoirs of John Rowland DSO DFC*
Signed by Squadron Leader John Rowland DSO DFC*
Inscribed and signed on the front end paper by
Squadron Leader John Rowland DSO DFC*

 

 
Pen & Sword first edition 2011. 216 pages and well illustrated with photographs.
Fine condition hardback book in a Fine condition unclipped dustjacket.  Clean, bright and tight – practically as new.
John Rowland made his first flight with the RAF Volunteer Reserve on 1 October 1938 from Redhill in a DH60 Moth. He won a Prize Cadetship to the RAF College Cranwell and after training in early 1940 volunteered for 613 Squadron which was equipped with Lysanders and some elderly Hectors. On 25 May 1940 six Hectors were sent off on a ground strafing operation to relieve the pressure on the garrison of Calais which was blocking the Germans from advancing up the coast towards Dunkirk and was encircled by German troops. Three Hectors flew on each side of Calais and created as much of a diversion as they could by dropping bombs and firing their guns at anything they could see. This was the only occasion on which this obsolete aircraft was used in Europe in WW2.
After a tour as a flying instructor, he converted to heavy bombers and was posted to 12 Squadron at Wickenby flying the Halifax . On 3 July 1943 he made his first operational trip to Germany and later that year was awarded the DFC twice in three days.  In 1944, on completion of 50 bombing operations, he received the DSO. The last of his bomber operations was to Calais, the town to which he made his first operational flight in the Hector in 1940.
In December 1944 he was seconded to BOAC, flying from Bristol. He remained with the airline after the war and flew routes to West Africa, the Middle East and to India. He was one of the first pilots to land at Heathrow Airport after its opening, remembering it as "a field with a long runway and marquees for passengers and customs clearance". After a number of years, he left to join the family hotel business. He always claimed that leaving BOAC was his greatest regret.
In the post-war years, Rowland befriended a number of former Luftwaffe night fighter pilots and attended their reunions. In later life he planted a tree at his old airfield at Wickenby in Lincolnshire in memory of his rear gunner. In 2011 he wrote this memoir, and passed away in 2014 at the age of 94.