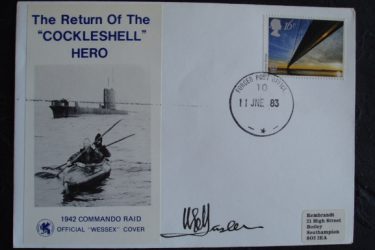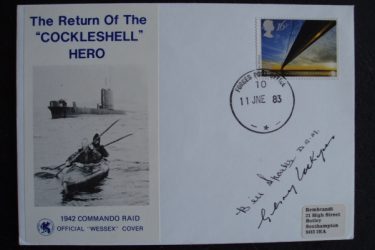 The RETURN of the COCKLESHELL HERO
Blondie Hasler and Bill Sparks
Signed by Blondie Hasler & Bill Sparks
Sold
A Pair of  limited edition Covers commemorating
The Return of the Cockleshell Hero
Signed  by
Major HG 'Blondie' Hasler DSO OBE
William Sparks DSM
+
Gerry Lockyear
This pair of covers commemorate one of the most audacious exploits of WWII. Winston Churchill believed the mission shortened the Second World War by six months and Admiral Louis Mountbatten, the commander of Combined Operations, deemed the raid "the most courageous and imaginative of all the raids ever carried out by the men of Combined Operations".
In 1942, Major Herbert 'Blondie' Hasler' a 28-year-old Royal Marines officer dreamed up, then trained for and finally led a team of a dozen commandos into the heart of occupied France to blow up enemy shipping in Bordeaux Harbour – a deed immortalised in print and on celluloid as the Cockleshell Heroes. Hasler and fellow marine Bill Sparks, who shared a canoe in the 60-plus-mile paddle up the Gironde in December 1942, were the only two men to survive, escaping through neutral Spain; the rest either drowned or were executed by the Germans under Hitler's notorious 'commando order'.  The attack crippled six German freighters – Churchill praised the feat and claimed it help shorten the war by up to six months.
'Blondie' Hasler was recommended for a VC but was deemed to be ineligible so was awarded a DSO instead.  He went on to found the SBS and became a noted single handed trans-Atlantic yacht racer after the war. He passed away in 1987. The other survivor was Bill Sparks who recorded his story in 'The Last of the Cockleshell Heroes' and passed away in 2002.
Hasler cared little for the film (which strayed considerably from the true story of the raid – he boycotted the premiere, but his mum didn't), certainly didn't like the word 'cockleshell' (made up for the book which preceded the movie – the canoes were actually called cockles) and never regarded himself as a hero. A man who knew him well, retired RN commander Bill Evershed, said Hasler "carried the loss of his men all his life".
In 1983, aged 60, Bill Sparks retraced his route paddling a canoe from Royan to Bordeaux over 4 days in the company of Gerry Lockyear of the Imperial War Museum and these covers were produced for that occasion.  The certification is 9/50 and the covers are in Fine condition and contain a number of press cuttings including an obituary of Sparks from the Daily Telegraph.
An exceptionally scarce Blondie Hasler signature makes this a very collectable pair of covers.
Click a picture to enter the gallery…..