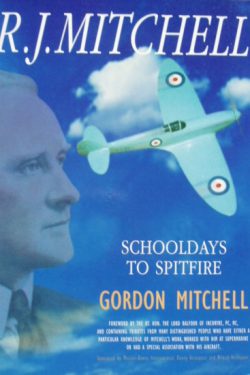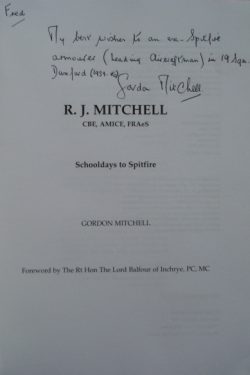 R.J. MITCHELL
Schooldays to Spitfire
Signed by Dr Gordon Mitchell
Presentation copy to LAC Fred Roberts from the author
My best wishes to an ex-Spitfire armourer (Leading Aircraftsman)
in 19 Sqn, Duxford (1939-40)
Gordon Mitchell
Privately published by the author, revised edition 1998.  353 pages including lots of  photos.  Chapter 19 has been substantially expanded to include the many tributes, memorials and events commemorating Mitchell which have occurred since the book was originally published in 1986.
Fine condition card cover book. Clean, tight and bright with one tiny crease to the corner of the front cover.
The life story of RJ Mitchell, designer of the Schneider Trophy racers and the immortal Spitfire, is told by his son Gordon and a galaxy of distinguished contributors who have either a particular knowledge of RJM's work, worked with him at Supermarine or had a special association with his aircraft.
Fred Roberts volunteered for the RAF in 1938 and after training was sent to 19 Squadron at Duxford with its newly acquired Spitfires. He was 'Grumpy' Unwin's armourer, though one of the most famous images of the Battle of Britain shows Fred re-arming 'Jimmy' Jennings' Spitfire at Fowlmere in August 1940.
A superb signed association copy of an excellent Spitfire book.
This item is listed on ACE
To purchase or discuss please contact Spitfire Books