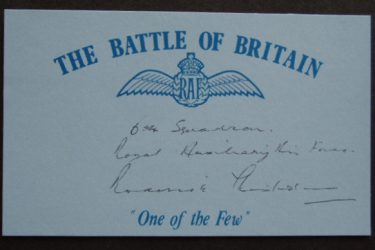 Air Commodore ROD CHISHOLM
A Battle of Britain/Night Fighter signed card
Signed by Air Commodore Roderick Chisholm CBE DSO DFC
Air Commodore Roderick Chisholm CBE DSO DFC*
604 Squadron Royal Auxiliary Air Force ~ Battle of Britain
Ace with 9+ night victories
Author 'Cover of Darkness' (Chatto & Windus 1953)
Citation for the award of the Distinguished Service Order
Acting Group Captain Roderick Aeneus CHISHOLM, D.F.C. (90233), Auxiliary Air Force.
This officer has completed an extremely large number of sorties at night during which he has destroyed 9 enemy aircraft. He has displayed exceptional skill and keenness and, both in the air and on the ground, his outstanding qualities and personal example have contributed materially to the efficiency of the unit he commands.
(London Gazette – 14 January 1944)
A blue card signed in blue ink.
Fine condition Measures approx. 13 x 8 cm
Please see the other similar Battle of Britain signed cards listed on this page