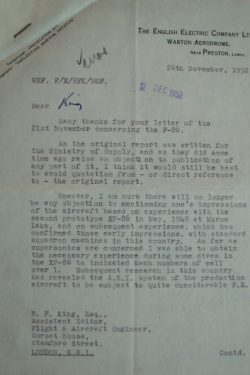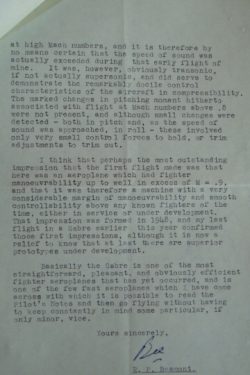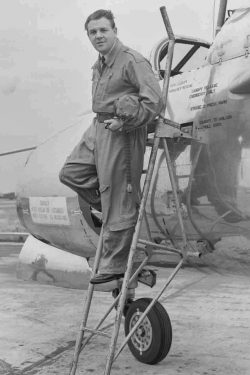 ROLAND BEAMONT ~ Flying the F86 Sabre
1952 Letter from English Electric Company Chief Test Pilot
Signed by Roland 'Bee' Beamont
Sold
2 page letter on English Electric Company notepaper dated 1952 from
Roland Beamont, Chief Test Pilot to HF King, editor of Flight
 

Very interesting content concerning the flight characteristics and performance




of the XF86 and F86 Sabre and reference to an early supersonic flight
ROLAND 'Bee' BEAMONT.  From flying Hurricanes in the Battles of France and Britain to leading a Typhoon Squadron and later a Tempest Wing into action, Roland Beamont became one of the world's foremost test pilots. His experiences during 40 years of test flying include production testing the wartime Hawker fighters, developing Britain's first jet fighter, the METEOR; Britain's first jet bomber, the CANBERRA; Britain's first supersonic fighter, the P1 (which became the LIGHTNING); the fabulous but ill fated TSR2 and the modern JAGUAR and TORNADO amongst many others.
HF King.  A pre-war aviation journalist who served with the RAF during WWII and went on to become Editor of Flight magazine and the author of several definitive books on aviation subjects. 
Click picture to view the letter…..