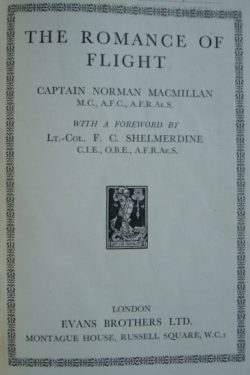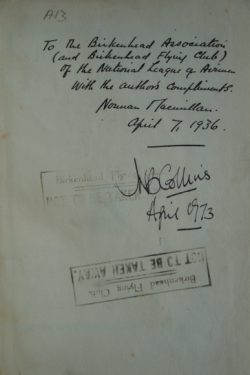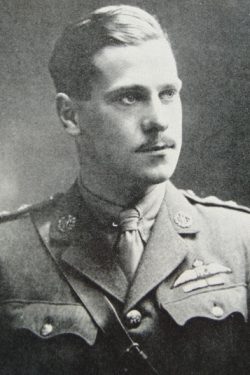 The ROMANCE of FLIGHT
By Captain Norman Macmillan OBE MC AFC
Signed by Captain Norman Macmillan
Sold
Inscribed and signed on the first page by
Captain Norman Macmillan OBE MC AFC
'To the Birkenhead Association,
and Birkenhead Flying Club,
of the National League of Airmen
With the author's compliments
Norman Macmillan ~ April 7 1936'
Evans Brothers First edition c1935.  128 pages and illustrated with photographs, drawings and diagrams
Good condition hardback book.  No dust jacket.  The book has a solid binding and is internally clean though the cream coloured boards are a bit grubby. There is a bookplate on the inside front cover.
This book is a practical introduction to the civil aviation scene of the 1930s. Chapters include; Pioneer Heroes of the Air, The Modern Aeroplane, How an Aeroplane flies; A Talk with the Pilot, Let's Take an Aeroplane apart and look at the Pieces, In the Air & Looking Down on the World. 
After serving sixteen months in the Highland Light Infantry, Norman Macmillan joined the RFC in 1916. He learned to fly at Netheravon, and in 1917 went to 45 Squadron on 1½ Strutters. Norman flew many missions on this type and claimed two victories before 45 were re-equipped with Camels in August 1917; Norman then gained his first Camel victory in the same month they arrived. On 11th September he twice claimed Fokker Triplanes out of control during two separate engagements in the space of a few minutes. Macmillan went on to claim nine victories in all. After being injured in an unfortunate accident on 6th January 1918 he did not see further combat and returned to England to become a flight instructor.
After his experience in the First World War, he was closely associated with flying for many years as an instructor and test pilot and also became an enthusiastic writer of aviation books of which, 'Into the Blue' is regarded as a WW1 classic. In 1925 Norman was the first person to make an emergency landing at Heathrow, which was then a row of cottages. During WWII he became wing commander war correspondent, before retiring to Cornwall, where he became Deputy Lord Lieutenant of that county. Norman died on 5 August 1976 aged 83.
As a number of distinguished WWII pilots started their flying careers at Birkenhead Flying Club, it is fascinating to wonder who may have perused this actual book whilst waiting for the clouds to lift enough to get airborne.