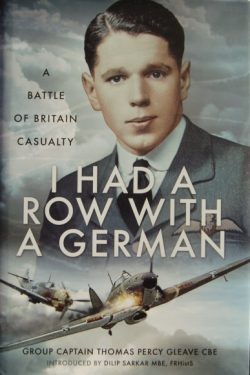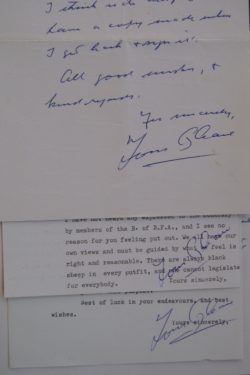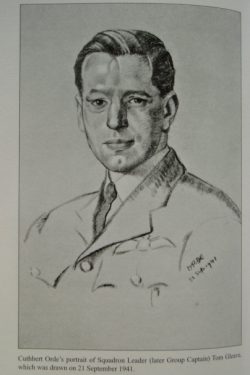 I HAD a ROW WITH a GERMAN
A Battle of Britain Casualty
Signed by Group Captain Tom Gleave
Sold
With 3 letters written & signed by
Group Captain Tom Gleave



Air World Books new edition 2022. 167 pages and very well illustrated with photographs.
New hardback book and dustjacket. Mint condition.  There are 3 letters which accompany the book; one is a four side handwritten letter and two are typewritten, all dated 1973/4 and all signed 'Tom Gleave'.  The content is interesting and Battle of Britain related. They fit neatly into the book unfolded.
Tom Gleave commanded 253 Squadron during the Battle of Britain and acquired fame for claiming five Messerschmitt BF109s in a single day.  However, Tom is remembered more the misfortune which befell him on 31st August 1940 when he was shot down and badly burned. He was a founder member of 'The Guinea Pig Club' being its first and only Chief Guinea Pig until his death in 1993. 
Whilst he was recovering, Gleave wrote a moving and graphic memoir published anonymously in 1942 with the title 'I Had a Row With a German'.  This new book contains not only the original memoir, but also tells the story of how the book came to published and gives much more biographical detail about Tom and his unique career.  The historian, Dilip Sarkar, has added fascinating context and research supported by lots of photos of letters and documents from Tom's personal archive, transcripts of his combat reports and even some contemporary reviews of the book from when it was first published. .
Much more than a simple reissue of an old book, this beautifully illustrated volume gives a fresh and completely original perspective on an important wartime memoir and serves as an excellent biography and tribute to a very brave man.