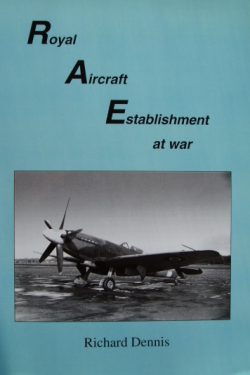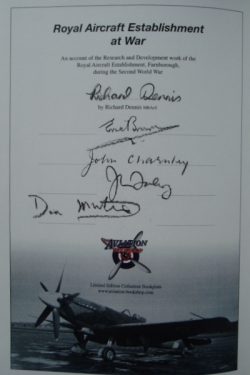 Royal Aircraft Establishment at WAR
Research and development at RAE Farnborough during WWII
Multi-signed
Limited Edition bookplate signed by
Captain Eric Brown ~ RAE Test Pilot
John Farley ~ RAE Test Pilot
John Charnley ~ RAE Aerodynamicist
Don Minterne ~ RAE Apprentice engineer & editor
Richard Dennis ~ RAE Apprentice engineer & author
Tutor Publications. First edition 2008.  Approx. 150 pages and well illustrated with 135 photos.
Very Fine condition A4 sized softback book with illustrated card covers. Nearly as new.
This is a long overdue book recording the history of the RAE, Farnborough during the Second World War.  The author started his career in aviation as an engineering apprentice at the Establishment in 1942 and hence this book is a first hand account of the work which took place there during the war years. 
Lavishly illustrated throughout with black and white photographs taken from the archives of the RAE and from private collections, many published here for the first time. The Establishment was described by Sir Stafford Cripps, Minister of Aircraft Production, as 'The nerve centre of our efforts in the air during the Second World War'.  This detailed account of the wartime work fully confirms that view.
Captain Eric Brown was the Chief Naval Test Pilot at RAE between 1944-49 and was CO of the prestigious Aerodynamics Flight from 1947-49.  In his Foreword he writes: 'RAE's interests covered the whole wide spectrum of aeronautical science, as is clearly depicted in this book, and the impetus of war accelerated progress to an unprecedented degree, resulting in the advent of the jet age and the possibility of supersonic flight, in which the RAE was to play a leading role'.
A fascinating and scarce book, enhanced by some highly relevant signatures.