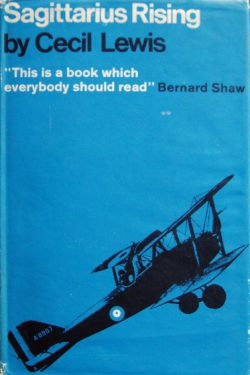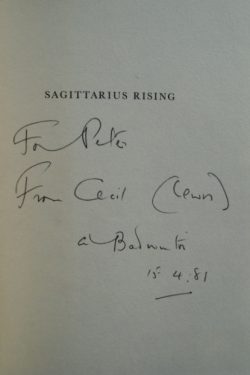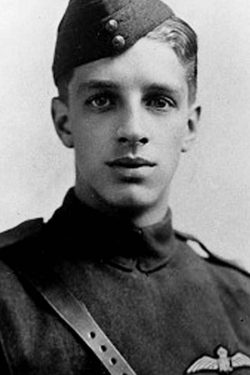 SAGITTARIUS RISING
The Classic Story of Aerial Combat in WWI
Signed by Captain Cecil Lewis MC
Sold
Inscribed, signed & dated on the half-title page by
Captain Cecil Lewis MC
'For Pete
From Cecil (Lewis)
at Badminton
15.4.81′
Peter Davies Second edition 1966.   332 pages with a new preface by Cecil Lewis.
Very Good condition hardback book in blue boards. Clean, bright and tight. The dustjacket is also in Very Good condition with a small, closed tear to the rear panel and some edge wear. It looks smart in a protective cover.  The book is inscribed to Flt Lt Peter Thorn who was a Battle of Britain Memorial Flight pilot in the '70s and '80s and his address label is on the front-end paper.
Captain Cecil Lewis MC (1898-1997) was an RFC fighter ace who flew with the famed No. 56 Squadron and was credited with destroying eight enemy aircraft. He went on to be a founding executive of the BBC and to enjoy a long career as a writer, retiring to Corfu where he passed away in 1997 aged 98, the last surviving RFC ace of the Great War.
'Sagittarius Rising' is one of the classics of Great War literature, widely considered to be the finest flying memoir of the war. At seventeen, standing 6 feet 4 inches tall and equipped with a precocious intelligence, Lewis lied about his age to join the Royal Flying Corps. In February 1916, still a month shy of his eighteenth birthday, he left for France with a total of thirteen hours in the air and was soon flying patrols over the western front at a time when the average life expectancy of a pilot was three weeks.
On 1 July 1916 he flew the first patrol of the Somme offensive and witnessed the mile-high column of earth thrown up by the detonation of mines under the German positions. Later he duelled with the 'circus' of Manfred von Richthofen and was the last man to see the aircraft of Albert Ball VC, the allied ace who vanished in a bank of cloud. Lewis also hunted Gotha airships over London by moonlight, and in 1917 he was awarded the Military Cross for continuous bravery.
Sensitive, observant, and compassionate, Lewis fills 'Sagittarius Rising' with some of the most gripping combat scenes ever written, along with magnificent descriptions of scenery, people, and surprisingly often, romance. His eye for detail encompasses everything from the quality of a French girl's Georgette underwear to his own fear when a bullet creases his back. He is at his best in the descriptions of his duties, from dogfighting and photographing the lines to night-flying over London.
On publication in 1936, the book was reviewed in the New Statesman by George Bernard Shaw, who Lewis had encountered at the BBC, and who had permitted him make the first film adaptation of one of his plays. Shaw's high praise guaranteed the book's immediate success: "This is a book everyone should read. It is the autobiography of an ace, and no common ace either. This prince of pilots had a charmed life in every sense of the word. He is a thinker, a master of words and a bit of a poet." 
A beautifully evocative book and a scarce signed copy is a great addition to any aviation library.