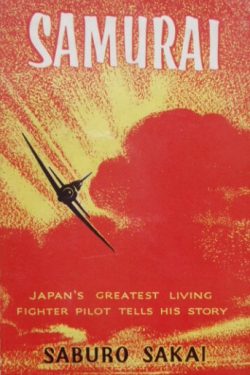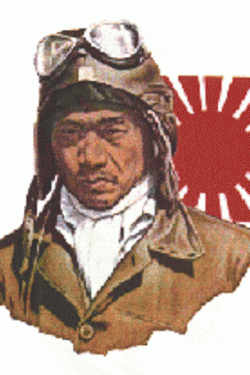 SAMURAI
Japan's greatest fighter pilot tells his story
by Saburo Sakai
Sold
William Kimber First Edition 1959.  208 pages.
Very Good condition hardback book in red boards. Clean, bright and tight. Near Fine condition, unclipped dustjacket  which looks very smart in a protective cover. NB the portrait of Sakai above is for illustration only.
This is the story of the Pacific air war from the rare Japanese perspective. This powerful memoir has proven to be one of the most popular and enduring books ever written on the Pacific war. First published in the USA in 1957, it gave Americans new perspectives on the air war and on the Japanese pilots who, until then, had been perceived in the United States as mere caricatures. Today, the book remains a valuable eyewitness account of some of the most famous battles in history.
Saburo Sakai was the greatest Japanese fighter pilot to survive WWII. Descended from Samurai warriors, he is credited with 64 victories and is doubly famous for never having lost a wingman in combat. Flying the legendary Zero fighter plane, which for the first years of the war was considered the best fighter anywhere in terms of manoeuvrability and range, he was wounded four times. Of the 150 pilots who began in his unit, only 3 survived the war.
Published in the UK in 1959, this book is one of the rarest Kimber aviation books, seldom found with it's vivid dustjacket intact. It is a brilliantly readable and truly gripping book – one of the true classics of air warfare.