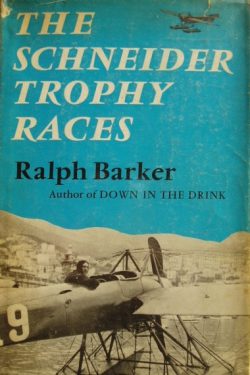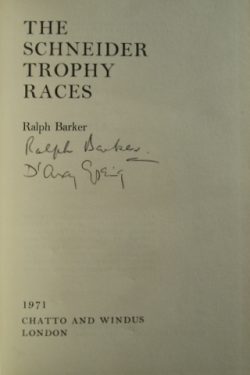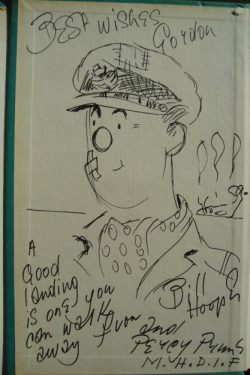 The SCHNEIDER TROPHY RACES
By Ralph Barker
Signed & illustrated
Sold
From the collection of Spitfire designer RJ Mitchell's son, Dr Gordon Mitchell, 
Signed on the title page by
Ralph Barker ~ Author
Air Cdre David D'Arcy Greig ~ 1929 Schneider Trophy pilot, Supermarine S5
+
An original drawing on the inside front board by Bill Hooper for Gordon Mitchell
featuring his famous wartime character 'Pilot Officer Percy Prune'
Chatto & Windus first edition 1971.  272 pages and well illustrated with photos and informative appendices.
Very Good condition hardback book with a Very Good condition dustjacket.
A well-researched and vividly written history of the legendary seaplane races, from the first (Monaco, 1913) to the last (Calshot, 1931). Britain's success in the 1929 event (at Calshot) was due largely to a new Supermarine design powered by an equally innovative Rolls-Royce engine. A few years later this combination gave birth to a fighter aircraft named the Spitfire.
The Schneider Trophy
The first contest for the Schneider Trophy was no more than a single and apparently minor item in a 14-day hydro-aeroplane meeting at Monaco in April 1913; yet within ten years it had become the most coveted of all air prizes, the greatest international speed race of all time. Dominated at first by France, it was very nearly won outright by Italy – three wins in five years was what was required – in the years immediately after the first World War. A flying-boat modified by a young man named R. J. Mitchell saved the trophy at Naples in 1922, but in 1923 the Americans, fielding a well-trained military team and flying the incomparable Curtiss racer, outclassed all their rivals and carried off the trophy. Winning again at Baltimore in 1925, they seemed certain to capture the prize outright. But then came the Italians' greatest moment as the firms of Macchi and Fiat achieved the miracle of producing in seven months a new monoplane which defeated the seemingly unbeatable Curtiss biplanes at Hampton Roads, Virginia. A British victory at Venice brought the contest to England in 1929 for the first time for six years, and a thrilling race in which a new Supermarine design was powered for the first time by a Rolls-Royce engine ended in another British victory. The political, technical and economic background to the challenges of the various countries had been a fascinating one throughout, and now the need for economy decided the British Government against further official participation – a decision already taken by the United States. How Lady Houston kept Britain's chances alive with a gift of £100,000, and how Britain finally secured the trophy, makes a dramatic climax to a unique story of human progress and endeavour.
Air Commodore David D'Arcy Greig DFC AFC (1900-1986)
D'Arcy Greig flew with 83 squadron in WWI and in September 1918 was shot down behind enemy lines but managed to evade capture and walked home through the lines, a distance of 13 miles.
Whilst an Instructor at the Central Flying School, he carried out aerobatic displays with John Boothman, where they did a mirrored falling leaf, with Boothman being inverted.  During one of these displays, Greig's aircraft fell apart in the air but fortunately he walked away from the wreckage uninjured.  He also led the CFS aerobatic team of five Genet Moths in 1927.
Selected as a member of the High Speed Flight, in 1928 he raised the World Air Speed Record to 319.57 mph in the Supermarine S5 and finished 3rd in the 1929 race behind the Supermarine S6 which won it for Britain.
William John 'Bill' Hooper (1916–1996)
Bill Hooper was a British artist, cartoonist, journalist and TV presenter.  At the start of World War II he enrolled as an air gunner, but was soon transferred to ground staff. During the war he met Anthony Armstrong, editor of the training manual, 'Tee Emm', and together they created the character of PO Prune as a humorous way of instructing wartime pilots what not to do if they wanted to save their lives and their aircraft.
A unique copy of this book.