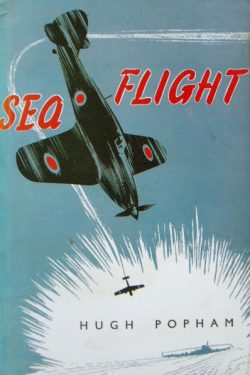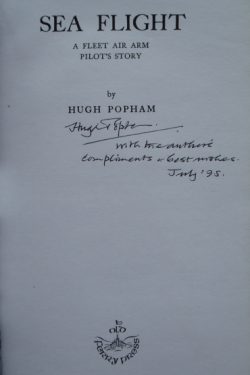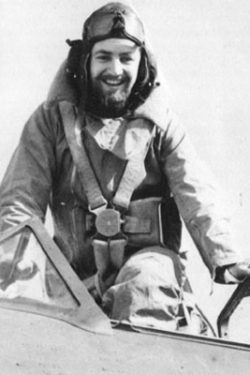 SEA FLIGHT
A Fleet Air Arm Pilot's Story
Signed by Lieutenant Commander Hugh Popham RN
Sold
Signed by Hugh Popham on the title page

'With the author's compliments and best wishes, July '95'
Published by Old Ferry Press. Revised edition 1994.  200 pages and well illustrated with photographs.
Fine condition card cover book.  Clean, bright, tight and unread. A super copy.
On it's original publication in 1954, 'Sea Flight' was the first account of wartime naval flying by an FAA pilot and received excellent reviews.  This is the book's fourth edition, reissued to coincide with the restoration at Duxford of the last surviving Sea Hurricane (Z7015), an aircraft that the author flew in September 1941.
Hugh Popham joined the Fleet Air Arm in the summer of 1940 and was soon in training as a pilot at HMS Vincent and then Yeovilton; thereafter his wartime career as a naval pilot took him to different theatres of operations such as Malta and then to the Indian Ocean where he had to contend against the Japanese. His story is one of a naval fighter pilot having to do his best with hopelessly inadequate planes. First Sea Hurricanes, and then Seafires, proved to be less than brilliant machines, the Seafire proving far too fragile for the rigours of carrier operations. But it is this story, incorporating the kind of detail that is missing from many wartime memoirs, that makes this book so fascinating. His war years on Indomitable, Illustrious, Campania and Striker are described with a modest charm that is so typical of a generation that adapted to their wartime roles with humour, energy and, in the end, great bravery.
A scarce signed naval aviation book in superb condition. It is a lively, thoughtful evocation of carrier operations during WWII.