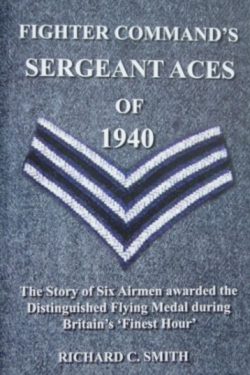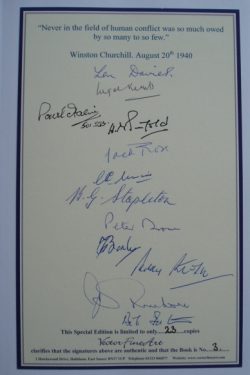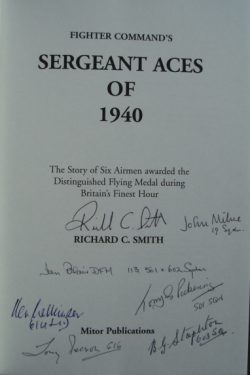 SERGEANT ACES of 1940
The Story of Six Airmen Awarded the DFM during the Battle of Britain
Signed by 16 RAF Battle of Britain Aircrew
Limited Edition bookplate 3/23 with signatures of 12 of 'The Few'
Fred Barker 264 ~ Paddy Barthropp 602 ~ Peter Brown 611/41 ~ Len Davies 151 ~ Paul Farnes 501
Bob Foster 605 ~ John Freeborn 74 ~ Nigel Kemp 242 ~ H M Pinfold 56 
Jack Rose 32 ~ Basil Stapleton 603 ~ George `Grumpy` Unwin 19
Signed by the author and 6 veterans on the title page
Ken Wilkinson 616 ~ Tony Pickering 501
Tony Iveson 616 ~ 'Stapme' Stapleton 603
John Milne 19 ~ Ian Blair 113, 501, 602
Mitor Publications. First Edition 2007.  156 pages and well-illustrated with photographs.
Very Fine condition hardback book and dustjacket with a certificate of authenticity. As new and unread.
This book tells the story of six men who joined the RAF and served as Sergeant Pilots in Fighter Command during the Battle of Britain.  Each biography covers their early years and their wartime experiences during 1940, told through their own words or from interviews with family, friends and wartime comrades.
For their outstanding dedication and skill, each was awarded at least one Distinguished Flying Medal.
The featured aircrew are:
Frederick Barker ~ George 'Grumpy' Unwin
Frederick 'Taffy' Higginson ~ Peter Morfill
William 'Gunner' Franklin ~ Donald Kingaby
An excellent collection of signatures in a well researched book.