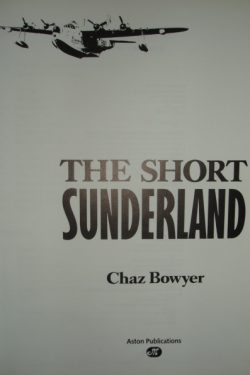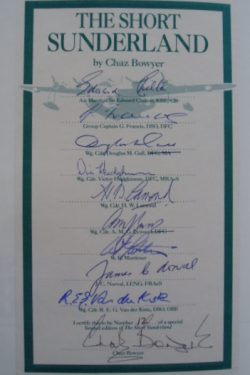 The SHORT SUNDERLAND
by Chaz Bowyer
Multi-Signed Limited Edition
Sold
Limited Edition Bookplate no 12 signed by the author & distinguished Sunderland Crew, several of whom contributed to the book
Air Marshal Sir Edward Chilton KBE CB
 Group Captain G Francis DSO DFC
 Wg Cdr Douglas Gall DFC
Wg Cdr Victor Hodgkinson DFC
Wg Cdr HW Lamond
Wg Cdr AMG Bywood DFC
 WF Mortimer
 JC Norval
 Wg Cdr REG Van der Kiste DSO OBE

Aston Publications First edition 1989. 192 pages and very well illustrated with photos
Fine condition book with dark green faux leather covers in a clear protective cover as issued. Clean, tight and unmarked. Practically as new.
This is a record of the history and work of the majestic Short Sunderland which was the most successful flying boat ever to serve with the RAF.  The very useful appendices contain a production list showing the allocations and fate of every Sunderland by serial number as well as lists of all the U-Boat claims by Sunderland crews
This was a unique, impressive aircraft which equipped some 30 commonwealth squadrons and spent 21 years in RAF front-line service. A scarce signed book.