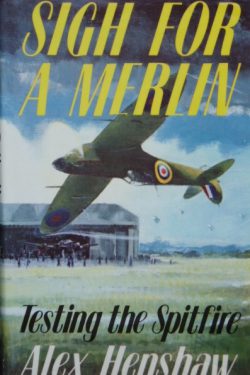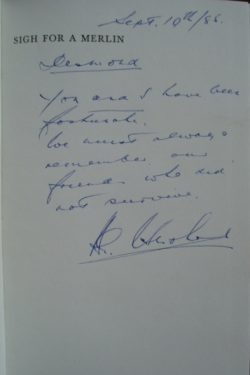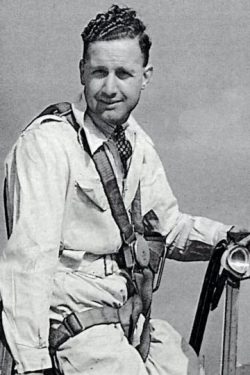 SIGH for a MERLIN
Testing The Spitfire
Signed by Alex Henshaw
Inscribed, signed and dated by Alex Henshaw on the half title page
Desmond.  You and I have been fortunate. We must
always remember our friends who did not survive.
Alex Henshaw  Sept 10th '85
John Murray First edition reprint 1980.   210 pages and well illustrated with photographs. 
Fine condition hardback book and clipped dustjacket. Clean, tight and bright.  The book is inscribed to Desmond Penrose, the de Havilland and Shuttleworth test pilot and he has placed his personal bookplate on the half title page.
Alex and Desmond were particular friends as Desmond owned and flew Henshaw's record breaking Percival Mew Gull G-AEXF.  He first flew it contemplating purchase in May 1985 at Redhill where he crashed it on landing due to a poorly marked ground obstruction. His approach and landing were unproblematic. He touched down, but his landing roll was brought to an abrupt halt when, at a speed of about 40 knots, the main undercarriage wheels of the Mew Gull dropped into a ditch, which crossed the runway, and flipped onto its back. Penrose suffered slight injuries but was able to open the inverted canopy and get out of the Mew Gull. There was no fire but the Mew Gull was seriously damaged. The incident had torn away its main undercarriage, distorted the fuselage and damaged the wings.

Despite the Mew Gull having been badly damaged in the landing accident, he proceeded with the purchase of it and his ownership was registered by the CAA on 1 May 1986. He, along with Alex Henshaw (who had owned the Mew between 1937 and 1939, had won the 1938 King's Cup in it and flown it on its record breaking flight to the Cape and back in 1939), funded its restoration and conversion back to the format in which it had been in 1939. He retained ownership of it for over sixteen years before selling it. Ultimately, in 2013, it was acquired by the Shuttleworth Trust and today is based at Old Warden – a fitting place for such an historic aeroplane.  It is possible that the book's dedication makes a gentle reference to the landing accident…
Famous for his pre-war record breaking aviation exploits, Alex Henshaw spent the early days of World War II at Eastleigh testing the immortal Spitfire fighter with Jeffrey Quill before being appointed Chief Test Pilot at Supermarine's new factory at Castle Bromwich.
Thousands of Spitfires were tested and manufactured at this site throughout the war, by the end of which 37,000 test flights had been made with Alex Henshaw flying an estimated ten percent of all Spitfires ever built. Often landing without aids of any kind, his breath-taking aerobatic style and complete mastery of the aircraft were to save his life on several occasions. 

This is one of the classic books on the Spitfire and is essential reading for any enthusiast. The interesting previous ownership story makes this a unique copy.