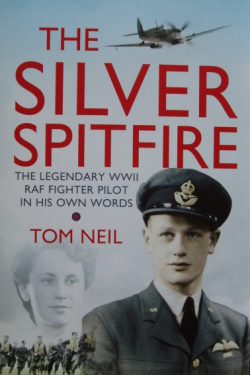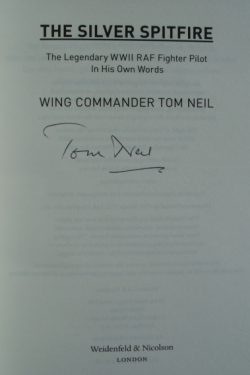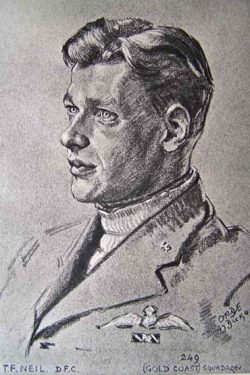 The SILVER SPITFIRE
The autobiography of the legendary RAF Fighter Pilot
Signed by Wing Commander Tom Neil
Sold
Signed by Wing Commander Tom Neil DFC* AFC AE
Weidenfeld & Nicolson First Edition, first printing 2013. 302 pages and lots of photos
Mint condition hardback book and dustjacket. New and unread. 
Tom Neil's earlier books covered his experiences during the Battles of Britain and Malta and in this third volume of memoir he takes up the unique next chapter of his story.
Following his return from Malta and a rest tour as a flying instructor, in the lead up to the D-Day landings Tom Neil was assigned as an RAF liaison to an American fighter wing. As the Allies pushed east, Neil commandeered an abandoned Spitfire as his own personal aeroplane. Erasing any evidence of its provenance and stripping it down to bare metal, it became the RAF's only silver Spitfire. Alongside his US comrades, he took the silver Spitfire into battle until, with the war's end, he was forced to make a difficult decision. Faced with too many questions about the mysterious rogue fighter, he contemplated increasingly desperate measures to offload it, including bailing out mid-Channel. He eventually left the Spitfire at Worthy Down, never to be seen again. The Silver Spitfire is the first-hand, gripping story of Neil's experiences as an RAF fighter pilot flying with the USAAF and his reminiscences with his very own personal Spitfire.
A surprisingly scarce signed first edition.