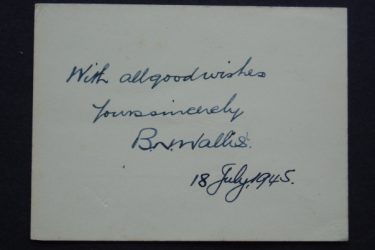 Sir BARNES WALLIS
Signed Card 1945
Signed by Sir Barnes Wallis
Sold
APRIL     ~    *SIGNATURE OF THE MONTH*
There are some aviation signatures that are very sought after by collectors
from all over the world, from pioneer pilots and designers to aces and astronauts. 
Therefore, each calendar month, Spitfire Books is offering an interesting signature for sale
and invites collectors to submit a 'best offer' during the month by email or telephone
---
A card signed and dated 18 July 1945 by
Sir Barnes Wallis CBE
(1887-1979)
Sir Barnes Wallis was one of Britain's greatest inventors most famous for developing the "bouncing bombs" used by 617 Squadron ("The Dam Busters") to breach the Möhne and Eder dams in Germany in 1943.
He also designed the geodetic structure for the Wellington bomber (and other aircraft) and designed the successful R.100 airship. After 1945, he worked on supersonic and hypersonic aircraft, most notably those with variable-geometry wings.
The card measures approx. 11 x 8 cm and is in Fine condition.