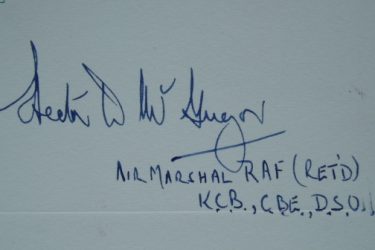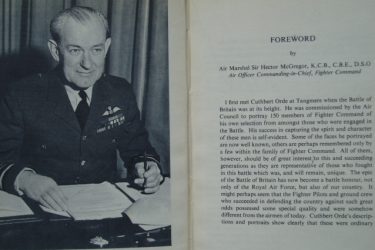 Sir HECTOR McGREGOR
Battle of Britain rare signature
Card signed by Sir Hector McGregor
Price: Serious offers invited until 31st August 2022
AUGUST    ~    *SIGNATURE OF THE MONTH*
There are some aviation signatures that are very sought after by collectors
from all over the world, from pioneer pilots and designers to aces and astronauts. 
Therefore, each calendar month, Spitfire Books is offering an interesting signature for sale
and invites collectors to submit a 'best offer' during the month by email or telephone
---
Air Marshal Sir Hector McGregor KCB CBE DSO

(1910-1973)
Commanding Officer 33 Squadron 1938-40
Commanding Officer 213 Squadron during the Battle of Britain 1940
Ace with 6+ victories
Station Commander RAF Tangmere 1942-43
Commander in Chief Fighter Command 1959-62
Sir Hector wrote the foreword in 'Some of the Few'

'I met Cuthbert Orde at Tangmere when the Battle of Britain was at its height.
  He was commissioned by the Air Council to portray 150 members of Fighter Command
of his own selection from amongst those who were engaged in the Battle.
  His success in capturing the spirit and character of these men is self evident…..'
The card was signed in 1970 for an American collector and comes with the picture
and foreword taken from a copy of 'Some of the Few'
 A very scarce Battle of Britain signature
Click a picture to view the gallery…..