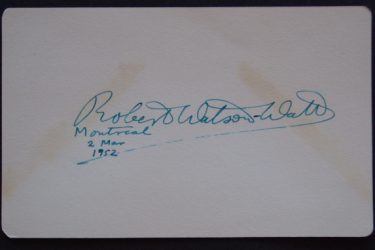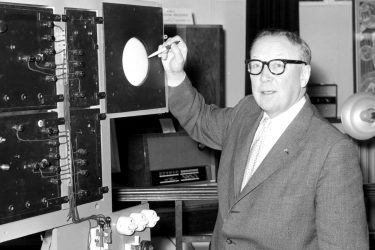 Sir ROBERT WATSON-WATT
Scottish pioneer of RDF and Radar Technology
Signed by Sir Robert Watson-Watt
Price: Serious offers invited until 31st December 2019
DECEMBER ~ *SIGNATURE OF THE MONTH*
There are some aviation signatures that are very sought after by collectors
from all over the world, from pioneer pilots and designers to aces and astronauts.
Therefore, each calendar month, Spitfire Books is offering an interesting signature for sale
and invites collectors to submit a 'best offer' during the month by email or telephone
---
Ink autograph on heavyweight card

Robert Watson-Watt
Montreal, 2 Mar 1952
Together with the original collector's mailing envelope

 
Sir Robert Watson-Watt (1892-1973) was a Scottish scientist who was the driving force behind Britain's vital early warning RDF/radar network that detected incoming German bomber and enabled RAF fighters to intercept them.  As such, he was one of the four technical geniuses without whose inventions the Battle of Britain couldn't have been won – the others being RJ Mitchell, Sydney Camm and Henry Royce.
Much has been written about the development of RDF/radar. Interestingly, the efforts of Watson-Watt and fellow British scientists to develop radar in the years leading up to WWII was the subject of a 2014 BBC drama 'Castles in the Sky' with Eddie Izzard starring as Watson-Watt.
A very scarce and collectable signature