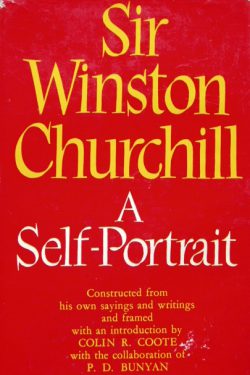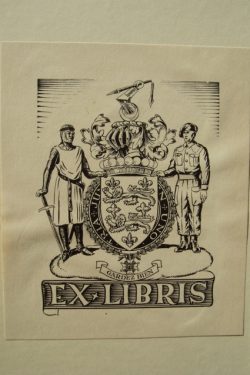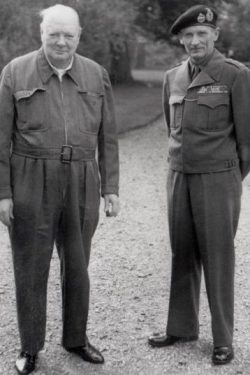 Sir WINSTON CHURCHILL ~ a self portrait
Constructed from his own sayings and writings
From the library of Field Marshal Montgomery of Alamein
Sold
Presentation to 'Monty' from the author, Sir Colin Coote DSO
'To Field-Marshal Viscount Montgomery of Alamein
with affectionate respect from The Author. December 10th 1954′

Monty's unique personal 'ex-libris' bookplate is attached to the inside front board  
Eyre & Spottiswoode First Edition 1954.  304 pages and 16 pages of photographs.
Very Good condition hardback book in blue boards.  The end papers have some light tanning and this has 'mirrored' the bookplate.  There is a little light spotting confined to the page edges.  The book has been given a dustjacket which is in Good condition  (with some edge wear) in order to protect the book and make it look smart on the shelf.  It appears that Monty discarded the original dustjacket early in the book's life otherwise the mirror image of the bookplate on the front end paper would not have occurred. 
Sir Colin Coote DSO (1893-1979) was a British journalist and Liberal politician. For fourteen years he was editor of the Daily Telegraph. There he came to know and admire Churchill. Shortly after World War II, he thought to compile a book of Churchillisms, annotated to validate each entry. He wrote for permission, and received a kind and altruistic reply:
28 Hyde Park Gate, 21 July 1946.
My dear Colin,
Thank you for your letter of July 15. I should be much honoured by the collection which you wish to make and would not, on any account, receive any royalty for it. WSC
The chapters are organized under headings including: Himself, Likes, Dislikes, Russia, War, On men in war, Battles and Weapons, Britain and the Empire, Monarchy, Foreigners, America, Parliament and Parties  and Human Conduct.
Monty himself gets a couple of mentions including: 'This vehement and formidable General – a Cromwellian figure – austere, severe, accomplished, tireless – his life given to the study of war, who has attracted to himself in an extraordinary degree the confidence and devotion of the army.' (Speech in the House February 1943)
A unique volume – see pictures below.