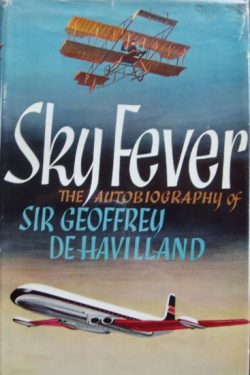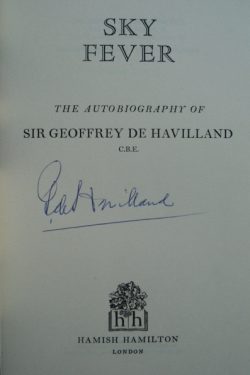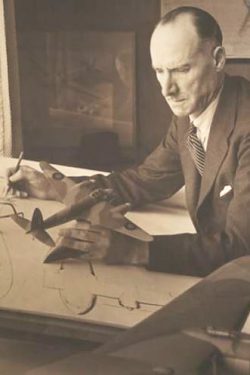 SKY FEVER
The autobiography of Sir Geoffrey De Havilland
Signed by Sir Geoffrey De Havilland
Sold
Signed by Sir Geoffrey De Havilland on the title page
Hamish Hamilton First edition, first impression 1961.  240 pages and well illustrated with photos.
A Fine condition hardback book in a Fine condition, unclipped, second impression dustjacket. Clean, tight and bright. A splendid example of this important autobiography.  It comes with a handwritten note card from John W Knox, a BOAC senior manager, who writes 'Sir Geoffrey has signed a few copies of his book for me and I thought you might like one. John.'
Geoffrey de Havilland (1882 -1965) was one of the world's true pioneers of powered flight, building his own first flying machine and the engine to power it in 1909. By painstaking trial and error he then taught himself to fly in it.
He was responsible for the first and many of the finest aeroplanes of the First World War, created the company that bore his name and built such widely different and momentous machines as the light Moths, the Rapide, the Mosquito fighter-bomber and the first jet airliner, the Comet. He tested all his early planes himself, becoming a highly skilled pilot.
This autobiography is concerned with much more than the story of his aircraft and company. The people he knew span the whole history of flying and the author contrives to tell the story of British aviation through these people and the events with which he was associated, while revealing his own diversified personality.
An excellent signed copy of a scarce and important book by one of the most influential and talented British pioneer aviators.