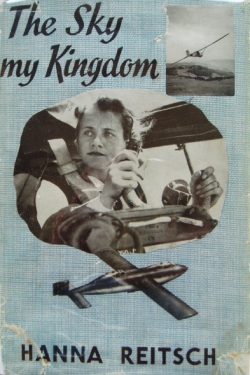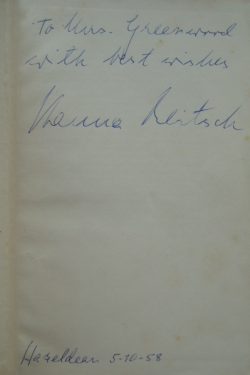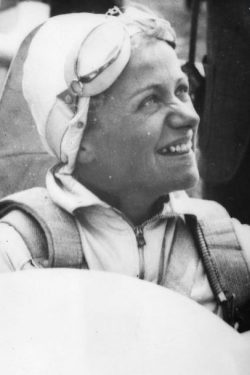 The SKY my KINGDOM
She flew for the Fuhrer
Signed by Hanna Reitsch
Sold
Inscribed, signed and dated on the front end paper by
 Hanna Reitsch
Hazeldean  5-10-58

The Bodley Head, First English edition 1955.  222 pages and well illustrated with photographs.
Very Good condition hardback book.  The book is bright, tight and square with some scattered foxing to the first few pages and the page edges.  The dustjacket is in Good condition with some repaired tears and some loss to the top and bottom of the spine.  It comes with an archival Brodart protective cover.
This is the autobiography of Hanna Reitsch, a woman who excelled in an environment that for most was extremely repressive – Germany before and during World War II. She achieved personal success when she escaped the culturally defined role of wife and mother in Nazi Germany to live her passion for flying.
Reitsch began her career flying gliders, setting both distance and endurance records in the 1930s. As the war approached, she became a test pilot for new and dangerous aircraft for the Luftwaffe. The aircraft she flew included a large number of gliders and military aircraft, including Focke-Achgelis FW 61 Hubschrauber (the first practical helicopter), the jet-powered piloted version of the V-1 buzz bomb, and the rocket-powered Messerschmitt 163. Her achievements as a test pilot made her a celebrity in Nazi Germany and earned her an Iron Cross and the friendship of Hitler.
In the final days of World War II, she flew with her friend and lover, Luftwaffe General Robert Ritter von Greim, to join Hitler in his bunker. Minutes before Hitler was to marry Eva Braun, Reitsch and von Greim, on Hitler's orders, flew from Berlin to Rechlin in a desperate attempt to rally the Luftwaffe and save the Reich. After the war, Reitsch was interviewed as a potential witness for the Nuremberg War Crimes Trials. Her interviewer stated that [Hanna's] account of the flight into Berlin to report to Hitler and of her stay in the Fuhrer's bunker is probably as accurate a one as will be obtained of those last days.
Although not in perfect condition, this is a very rare signed book with a unique perspective on German aviation before and during WWII.