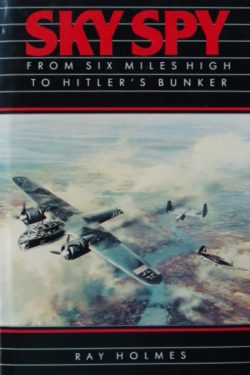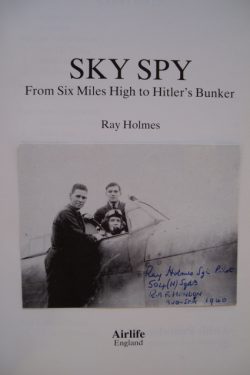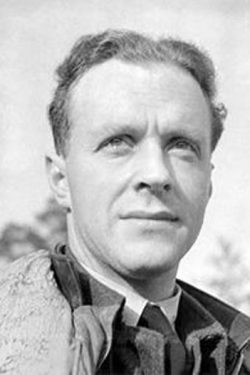 SKY SPY
From Six Miles High To Hitler's Bunker
Signed by Ray Holmes
Sold
Photo inscribed and double signed by Ray Holmes
'Ray Holmes Sgt Pilot
504 (H) Sqdn
RAF Hendon
Aug- Sept 1940′
On the reverse he has signed on a picture of the remains of the Do17 which he rammed on 15 Sept 1940
Airlife First edition 1989.   226 pages plus photographs
Fine condition book and dustjacket. Clean, bright and tight.
Ray Holmes was a journalist and consequently this is a very well written and entertaining account of the Author's life as a fighter pilot with 504 Squadron in the Battle of Britain. 
On September 15 1940, Sergeant Holmes spotted a German Dornier 17 bomber lining up to attack the Buckingham Palace and, finding he had run out of ammunition, slammed into the bomber, slicing off its tail.
Sergeant Holmes parachuted to safety, while his Hurricane plane crashed at 400 miles per hour behind Victoria Station, well away from the palace. The German bomber plunged into the station's courtyard. The German pilot also survived the incident, which was captured on film. 
In 2004, archaeologists unearthed parts of Holmes's Hurricane for a Channel 5 television documentary, in which Holmes visited the site near Buckingham Palace Road and was shown the fighter's control column which he had last held 64 years earlier.
After the Battle of Britain, Holmes taught Russians to fly Hurricanes in Murmansk then flew high-altitude photo reconnaissance Spitfires with 541 Squadron. As a King's Messenger at the end of the war he met Churchill and visited the ruins of Hitler's bunker in Berlin. A cracking read.
A nice copy of a great Battle of Britain memoir.