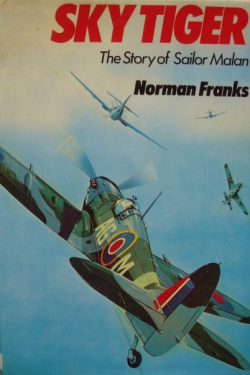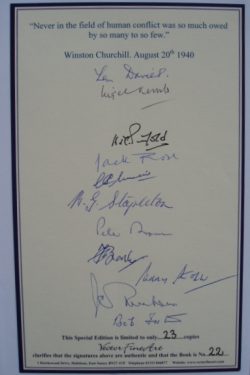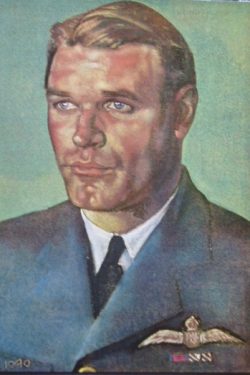 SKY TIGER
The Story of Sailor Malan
Multi-signed by RAF Battle of Britain Aircrew
Sold
Limited Edition Bookplate signed by 11 Battle of Britain Aircrew
Len Davies ~ Nigel Kemp
HM Pinfold ~ Jack Rose
'Grumpy' Unwin ~ 'Stapme' Stapleton
Peter Brown ~ Bob Foster
Frederick Barker ~ Paddy Barthropp
Wing Commander John Freeborn DFC*
Crecy Books edition 1994.  221 pages plus photographs
Fine condition book with a Fine condition dustjacket.
During the first fifteen months of WWII, Sailor Malan rose from a little known flight commander in 74 (Tiger) squadron to be Britain's premier fighter pilot. He was awarded a double DSO, a double DFC and several foreign decorations. An ace with 32 victories, he was a superb shot, a born leader and an exceptional tactician. He became a household name and a permanent figure in the gallery of great flyers.
Wing Commander John Freeborn DFC* was 74 Squadron 'A' Flight Commander and as such frequently led the Tigers into battle. He is frequently mentioned in this book as he was an important part of the story of 74 Squadron in the Battle of Britain.
An excellent collection of signatures in a well researched and authoritative book.